Amazon UK has pushed the shipping date for Google's new Nexus 9 tablet to the middle of December, as opposed to the early November release schedule set by the retailer previously.
Amazon confirmed pre-order for the HTC-manufactured Nexus 9 tablet soon after the launch on 15 October, initially announcing the tablet would be shipped on 3 November.
But it seems Amazon is having trouble getting the Nexus 9 in stock and the product page on the site now lists another date with availability being deferred until 15 December.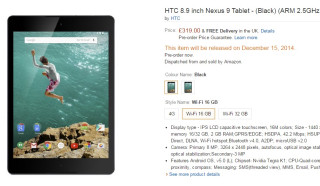 Google announced the Nexus 9 would be shipping and arrive in store from next Monday, 3 November and on Google's own Play Store, you can still pre-order a new Nexus 9 tablet to be shipped next Monday, meaning the delay is only affecting Amazon UK.
Google is selling the Nexus 9 at the same price as Amazon, with the Wi-Fi version costing £319 for the 16GB version, rising to £399 for the 32GB version.
While Google in the UK has yet to make the 4G version available to pre-order through the Play Store, Amazon does offer customers that choice, with the 32GB 4G model costing £459.
Meanwhile a couple of other retailers such as Clove and Expansys have confirmed that they will be selling Nexus 9 once it becomes available in the UK but have not revealed the price and release schedule.