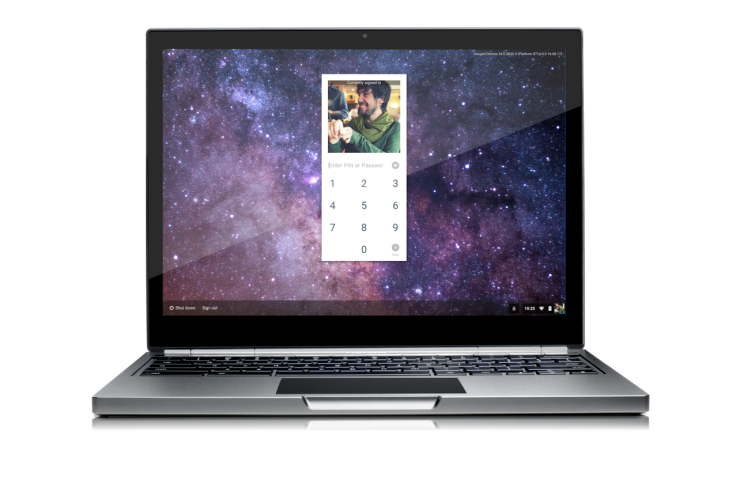 Google is testing a brand new feature to Chrome OS, making it slightly easier for users to unlock their Chromebooks with just a PIN. Until now, users could only safeguard their Chromebook by typing in their Google account password or by using a paired smartphone as authentication to unlock their device.
Rather than trying to remember and plug in long, complex passwords, the new experimental feature currently being tested in the latest Chrome OS developer update will allow users to plug in a simple PIN, much like they would do so for a credit or debit card.
"This will definitely come handy for touch devices," Google developer François Beaufort wrote in a recent Google+ post detailing how to use the new feature. He also said the "Quick unlock" settings will soon be introduced in the regular Chrome settings page.
Here is a simple step-by-step guide to set up the new function to unlock your Chromebook using just a PIN on Chrome OS:
Enable the flag - chrome://flags/#quick-unlock-pin

Restart Chrome

Head over to the Chrome Material Design settings page to set up your unique PIN for the Lock Screen feature

Under the new "Screen Lock" section, set up your unique numeric Lock Screen PIN

Finally, lock your screen with [magnifying glass key] + L

Try out your new "Quick unlock" feature and unlock the Chrome OS using your new PIN code
Many users seem pleased with the new, convenient feature given the fact that plugging in your master "key to the empire" Google account password every time you log in is rather risky, especially in public places.
"This is a good move in the right direction," one user commented on the post. "However, I think that this PIN lock feature should be expanded to also include passwords. So the password is not linked to the Google account but a separate password just for the device."
The announcement follows Google's decision to gradually phase out Chrome apps on Windows, Mac and Linux over the next two years.
"As the capabilities of the web continue to grow, we're excited to see what developers build next," Google VP of product development Rahul Roy-Chowdhury wrote in a blog post. "Alongside other browser vendors, we remain committed to investment in the web and enabling users and developers to benefit from its openness and reach."