Users of Google's popular Gmail email service in the United Kingdom, can now attach and send money via their email accounts to recipients within the country.
This feature is handled by Google's Wallet service, and allows users to send money in the form of ordinary attachments.
Google's latest 'Send Money in Gmail' functionality was first launched for Gmail users in the United States of America, along with other Wallet-related features such as 'Buy with Google' that promises faster checkout while making purchases, thus eliminating long queues outside counters to complete shopping.
With the Gmail money-sending feature having rolled out in the United Kingdom, all users need to do is link their bank account to their current Google Wallet account.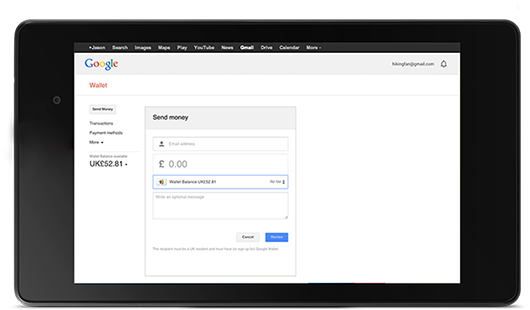 However, recipients also need to be using a Google Wallet account in order to receive the money sent via email attachments.
Users can make use of their Google Wallet, or a debit card, to send out money via Google's latest feature.
Gmail users opting to take advantage of the above feature, should remember that there is a per transaction transfer limit of £5,000, and a transfer limit of £10,000 for a five-day period.
Users are advised to look out for the '£' icon in the attachment options, within 'Compose'.
To send money, users need to click the '£' icon to attach money to a particular Gmail message. After that, they need to enter a personalised message, the amount, funding source, and finally click the 'send' button. Users could also be asked to key in the Google Wallet Pin (if created).
Money can be sent using desktop computers, to other desktops/smartphones.
Apart from sending out money, users can also claim/receive/request currency.
At the moment there will be no fees charged to send/receive money.
Google has also stated that the 'Send money via email' feature is rolling out in phases, so it should take a while before the latest functionality covers all Gmail users in the UK.