Starting in Japan 19 hours ago, Google has launched an impressive April Fools' Day game that lets Google Maps users catch Pokémon hidden all over the world while using the app on the smartphone or tablet.
To earn the great prestige of becoming a Pokémon Master, all you have to do is launch the Google Maps app on your iOS or Android device and tap the Search field at the top of the screen.
A new option in blue called "Press start" will appear on the screen with a Poké Ball symbol next to it, and once you press it, Google Maps will take you on a dazzling adventure across the world to catch elusive wild Pokémon species.
Our first stop was at the Pokémon Lab near the CERN research facility in Switzerland, where we caught a Metagross.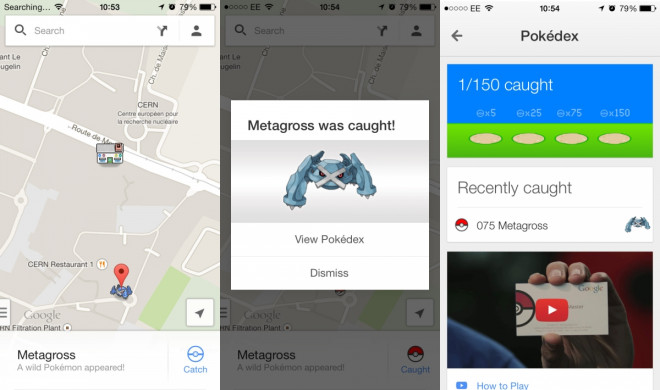 In addition to viewing your new Pokémon (rendered using Nintendo-licensed artwork), you can also view the Pokédex, which has a list of 150 Pokémon for you to capture.
Together with the game, Google launched a cinematic-quality joke trailer complete with 2D animation for the Pokémon Challenge.
"It's always been important to us to have the most qualified employees at Google. Now, using the technology created by the Google Maps team, we're prepared the most vigorous test known to man, to find the world's best Pokémon master," said Google Maps vice president Brian McClendon, standing next to a Google Streetview car in the video.
McClendon is promising to give the ultimate Pokémon master a job with Google that starts on 1 September 2014.
Like the games Google sometimes releases on its homepage, the Pokémon challenge will only last for until 2am Pacific Daylight Time in the US on 2 April, so play it while you can.
P.S. If you get really stuck trying to find all 150 Pokémon, you can look at this video or check out this list on Reddit. There's also now a Pokémon April Fools' Wikia with a complete list of all the locations in the world where you can find each species.
Also, if the Pokémon Challenge isn't loading in your Google Maps app, you need to go to the App Store or Google Play, search for Google Maps and update it, then restart the app.