Harry Redknapp acknowledged he had received an apology from referee Martin Atkinson, after the 'ghost goal' which contributed to Tottenham's defeat to Chelsea at Wembley. But former Premier League referee Graham Poll questioned how the official could have got the decision so drastically wrong.
Atkinson ruled that Juan Mata's shot early in the second half had crossed the line when replays clearly showed that Benoit Assou-Ekotto cleared the ball before it crossed the line.
The goal gave Chelsea a crucial 2-0 lead that compelled Tottenham to commit men forward and chase the game, leaving them exposed to late goals from Ramires, Frank Lampard and Florent Malouda that secured an emphatic 5-1 victory for Roberto Di Matteo's side.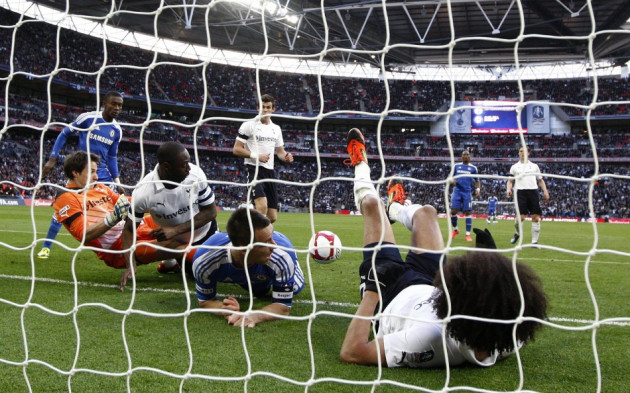 Redknapp said that Atkinson, who will appear as a goal-line assistant at Euro 2012, made a disastrous error with the Mata goal and said the referee could not have seen if the ball was fully over the line from his perspective.
"He must have guessed," the Tottenham boss told the Guardian. "He can't have been sure. He's just made a mistake, unfortunately. A big mistake.
"I spoke to him he says he feels worse than I do. I said: 'I don't think so.' But he says he feels bad. He knows he's made a mistake and he says he'll have a bad week as well."
The Tottenham manager also echoed calls for the introduction of goal-line technology but former league referee Graham Poll has questioned how Atkinson could have got the decision so wrong.
"How on earth did Martin Atkinson give Chelsea their second goal? It was a dreadful decision. Replays, available for the rest of us to see within seconds, proved what a terrible judgement call it was as the ball clearly did not cross the line," Poll told the Daily Mail.
"We all know this, but again goal-line technology cannot be introduced quickly enough to stop such incidents affecting such important games. It has not come quickly enough to save Atkinson's reputation. This was just unacceptable.
"A decision, usually made by the assistant as he looks along the goal-line, appeared to be taken by Atkinson alone. It's ironic that he has been invited to Euro 2012 - as a goal-line assistant.
"QPR fans will recall his decision to ignore Clint Hill's goal claims against Bolton five weeks ago.
Poll added: "With goals, referees use the defence of poor viewing angles for missing such incidents. And, as referees, we were always told: 'To miss something is understandable, but to see something that did not happen is unacceptable."