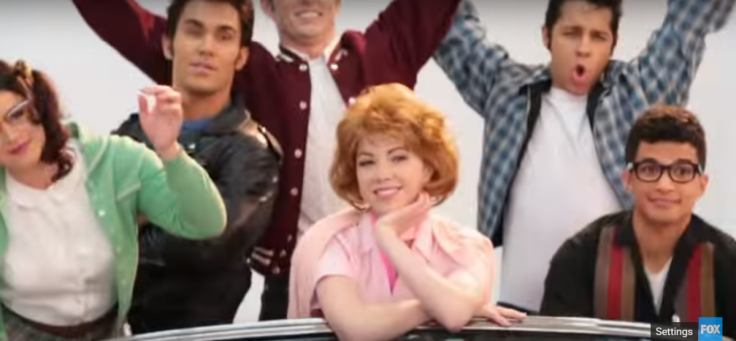 Didi Conn will forever be remembered as Frenchy, the beauty school dropout from the 1978 film Grease. But Carly Rae Jepsen who took on the role in Grease Live, the recent remake of the musical, has managed to bring something original to the role with a little help from one of the original Pink Ladies.
Jepsen spent time with the actress who played the part in the film while preparing for her role and the two became close friends in the process. Prior to the Sunday premier of the show, Conn gifted the 30-year old singer the pink shirt along with a silver locket engraved with the words "We'll always be together" both of which she wore in the original film.
Thanking Conn in an Instagram post, Jepsen captioned a collage of the presents with a message saying: "Dear sweet #didiconn I can't thank you enough for your generous spirit and inspiring talent. This locket/original Frenchy shirt you left in my room had me crying those happy tears. Xoxo #FRENCHY loves for life!"
Along with the gifts, Conn also attached a note that read, "Darling baby, you are so gorgeous, so talented. I adore you. Thank you angel puss for opening your heart to me and for the joy of seeing your exquisite interpretation of Miss Frenchy!"
As a special treat for fans of the Grease film, Conn made a cameo appearance in the Grease Live remake as Vi, the waitress who comforts Frenchy after her pink hair colour fiasco.
Talking about her role in an interview with Rolling Stone magazine prior to the release, Jepsen said, "I'm excited to have Frenchy. She's very optimistic, she's looking for all of her friends to be friends but she's got that bad pink lady side too, and she's also kind of just that happy-go-lucky thing that I find very relatable and adorable and I'm having a lot of fun with her."
Fox's musical production made its live televised debut on 31 January with Julianne Hough as Sandy Young, previously played by Olivia Newton-John, Aaron Tveit taking on John Travolta's role as Danny Zuko and Vanessa Hudgens as Rizzo (played originally by Stockard Channing).