Eurozone finance minister have put forward a four page draft proposal which Greek officials have described as "very bad" and designed to humiliate Greek Prime Minister Alexis Tsipras and his left-wing Syriza government.
Even Nobel Prize wining economist Paul Krugman has described the list of demands by the Euro group as "madness".
The emergency summit which proceeded late into Monday morning in Brussels was paused several times to allow consultations between German Chancellor Angela Merkel, French President Francois Hollande and European Council President Donald Tusk.
Six sweeping measures including tax and pension reforms must be enacted by the Greek parliament by Wednesday night (15 July) and the entire package endorsed by parliament before further bailout talks can resume, the draft proposal states, according to Reuters.
If Greece meets the conditions set down, the German parliament would meet on Thursday to mandate Merkel and Finance Minister Wolfgang Schaeuble to open talks on a new loan.
Economist Krugman, in a piece for the New York Times says that the euro group's list of demands goes beyond harsh into pure vindictiveness, complete destruction of national sovereignty and no hope of relief.
"It is, presumably, meant to be an offer Greece can't accept," he said, asking whether anyone will ever trust Germany's good intentions after this.
The four page document put forward by the Eurozone finance ministers include:
reforms proposed by Greece to be ratified by its parliament by Wednesday;
"ambitious reforms to pensions and labour markets;
international creditors be allowed to work on the ground in Athens and have full oversight of the draft legislation;
possible transfer of €50bn in Greek assets to an external fund for eventual privatisation; and
possible talks on the "swift negotiations on a time-out from the euro area, with possible debt restructuring" if a bailout is not agreed.
Time out of euro a sticking point
There are already disagreement among EU officials on whether some of the demands put forward in the four page document are viable.
According to the BBC, a senior EU official has said that there was no chance of a "time out" proposal surviving any final document to be approved while another official noted that there is no legal basis for such an arrangement in the EU treaties.
Some hardline countries have voiced support for the German initiated five year "time out" from the euro unless Greece accepted and implemented swiftly much tougher conditions, says Reuters. However France's Hollande, so far Athens's strongest ally has dismissed this, saying that it would start a dangerous unravelling of EU integration.
Observers have said that the temporary Greek exit proposal was a thinly disguised way of pushing Athens out of the single currency gently, AFP reported.
Another sticking issue is over the €50bn (£35.88bn, $55.6bn) worth of Greek assets earmarked for privatisation, and which Germany is insisting be placed in a trust fund in Luxembourg, with proceeds from the sale to go towards paying down Athens' debts.
Reuters said that experts evaluate Greek assets earmarked for privatisation at just €7bn and that one diplomat had described the move as turning Greece into a "German protectorate", stripping it of more sovereignty.
Bitter pill for Greece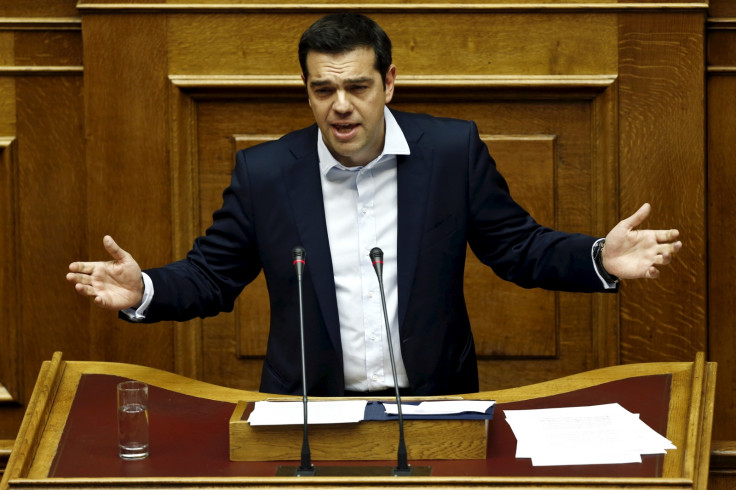 The draft document, according to the BBC would be an extremely bitter pill for Greeks to swallow with some of the ideas proposed "a little short of humiliation" for Tsipras and his government.
Reuters noted that Greece's new Finance Minister Euclid Tsakalotos has been silent in public but some lawmakers in Tsipras's Syriza party were furious with the latest developments in Brussels.
"What is at play here is an attempt to humiliate Greece and Greek, or to overthrow the Tsipras government," said Dimitrios Papadimoulis, a Syriza member of the European Parliament.
It is understood that Eurozone finance ministers are also demanding that Tsipras reverse some laws his government had adopted since taking over power in February which are considered "in breach of prior agreements with creditors," according to European Voice.
This, according to BBC, includes overturning the reinstatement of 4,000 civil servants such as school guards and cleaning ladies allowing international creditors full monitoring of its work in Athens and agreement of draft laws in advance.
Greece already had two bailouts worth €240bn (£172.21bn, $266.87bn) from Eurozone countries and the International Monetary Fund, but its economy has shrunk by a quarter and unemployment has risen to above 25%, with one in two young people still out of work, Reuters said.
Athens is seeking a three year rescue plan worth up to €86bn (£61.71bn, $94.53bn).