The oil slick from a tanker that sank off the Greek island of Salamis on Sunday (September 10) has now reached some of the capital's most popular beaches. Greek authorities have appealed to swimmers to stay away from the beaches in the southern suburbs of Athens after thick black oil began washing up.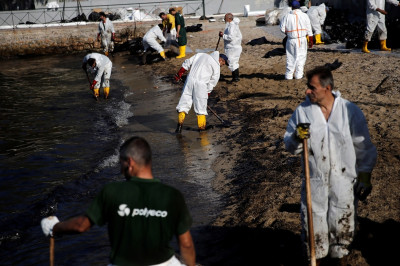 A thick oily tide covers stretches of the Athens Riviera, and the usually packed beaches were empty, their sun loungers devoid of customers. Fotis Yiamanis, a resident of the seafront neighbourhood of Faliro, where Greeks enjoy morning swims several months of the years called it a "catastrophe". Yannis Trikaminas, who lives in Piraeus, said: "You can't go near now. It stinks of oil, who's going to go in there to swim? Look at the boats there, they are black from the tar."
Slicks were reported at beaches in the suburbs of Glyfada and Piraeus. Glyfada Mayor Giorgos Papanikolaou says municipal workers have set up floating booms offshore and are using chemicals to try to dissolve the oil.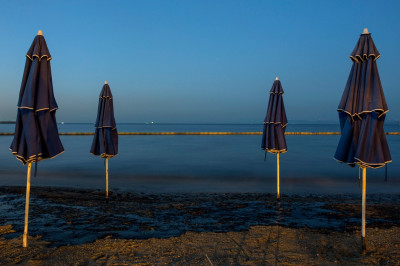 The 45-year-old Agia Zoni II tanker sank while anchored off the coast of Salamis (also known as Salamina) island, just off Greece's main port of Piraeus. It was carrying 2,200 tons of fuel oil and 370 tons of marine gas oil.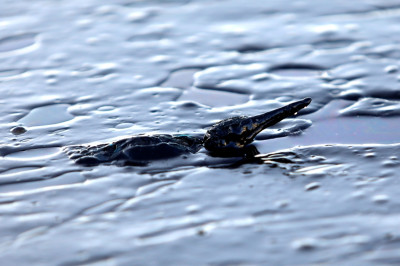 Greece's shipping minister Panagiotis Kouroublis said divers have sealed the ship's cargo holds and work is due to start on pumping out the remaining fuel. He also said he would step down if prime minister Alexis Tsipras asked him to: "I am at the prime minister's disposal," he told Parapolitika radio.
The cause of the sinking is not known. The tanker, which had set off on Saturday from an oil refinery near Athens, had been anchored by an islet near Salamina, about 25 kilometres west of the capital, when it began to leak, according to the Greek coast guard. The tanker's two crew members were rescued by the coastguard and taken to hospital, from where they were later released.