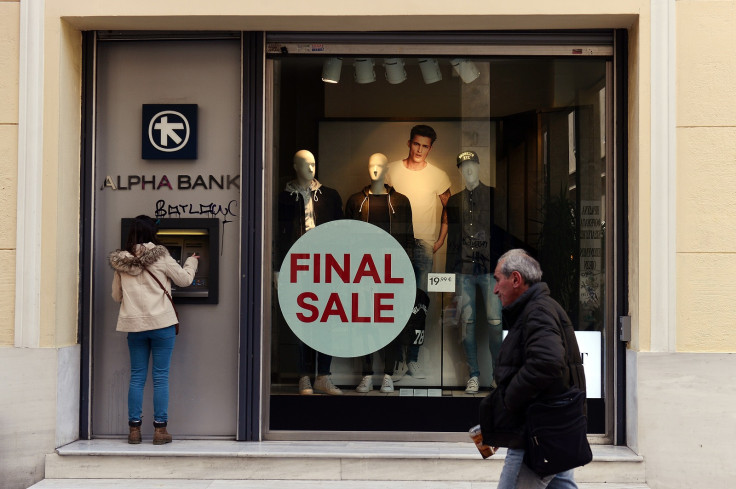 Greece has introduced a surcharge for all cashpoint withdrawals and financial transactions as the cash-strapped country desperately tries to prevent citizens making money withdrawals.
Ministers hope this will move, introduced on 5 May, will raise as much as €180m (£132.6m, $201.3m) which Athens hopes will help to avoid defaulting on debts owed to international creditors.
The introduction of the surcharge - which still needs European Central Bank approval and is expected to amount to €1 for every €1,000 transaction - came as the European Commission warned that Greece was slipping into bankruptcy.
Millions of citizens have emptied their bank accounts - clearing out more than €28bn - and pushing the total cash revenue held in the country's financial institutions to a 10-year low.
"The surcharge is just one of a grab-bag of measures we are considering if things get tough," a senior finance ministry official told The Times.
Greece has also been hit by the European Commission slashing its growth forecast for the country this year by 2%, warning that "uncertainty and illiquidity" are damaging the economy.
'Grexit is not an option'
In February, the commission estimated Greek debt would fall from 176.2% of GDP in 2014 to 170.2% this year. However, new forecasts now predict it will actually rise to 180.2% in 2015.
"The rise in uncertainty and the slowdown in the recovery have had a significant impact on Greece's public finances, resulting in a significant shortfall in state revenues at the end of 2014 and in the first two months of 2015," said the commission.
Jean-Claude Juncker, the commission president, insists that there is no option of a Grexit - Greece leaving the euro.
"The world wants to know where we're going. They want to know that the monetary union is irreversible; it is a currency that is made to last. Not to be temporarily suspended or cancelled," he said. "Grexit is not an option."