Greek banks are set to stay closed until at least Thursday (9 July), and capital controls restricting citizens to withdrawing €60 a day will remain in place after the European Central Bank (ECB) ramped up pressure on Alexis Tsipras's Syriza government.
The ECB said on 6 July that it would maintain the current level of liquidity made available to the Greek banking system. However, it also adjusted the haircut - or discount - on Greek collateral held to balance the loans. The move essentially makes it more difficult for the banks to receive the emergency funding they need to stay afloat.
Greek banks have watched their deposits slowly wither over the past several months, bringing them dangerously close to insolvency, and cash is now running dry.
Jim Reid of Deutsche Bank said: "The haircut amounts were not disclosed so it's impossible to know the consequences (i.e. whether it takes Greek banks close to being technically insolvent) but as a minimum it seems to be a gesture to increase pressure on the Greeks. The ECB will likely wait until after today's Euro leaders summit before contemplating accelerating things further."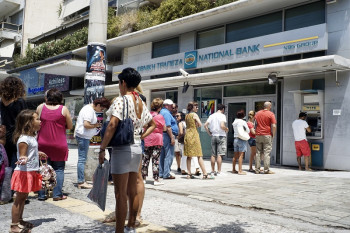 Whether Greece contemplates minting its own currency or its banks consider raiding savers' deposits is now entirely dependent on politics, making crunch meetings over the next few days vital.
French President François Hollande and German Chancellor Angela Merkel have urged Greece to come up with credible proposals for a bailout package that would also help rejuvenate Greek banks.
Merkel said: "We say very clearly that the door for talks remains open and the meeting of eurozone leaders [on 7 July] should be understood in this sense. But at the same time we say that the requirements for starting negotiations about a concrete European Stability Mechanism programme are not present at the moment."
Debt flashpoint
After Greece defaulted on a loan repayment to the International Monetary Fund on 30 June, and talks to secure bailout funding broke down, the next major flashpoint has been signalled as 20 July when €3.5bn is due to be paid to the ECB - the very institution that is effectively holding the Sword of Damocles over the county's banking system.
But experts believe that the 20 July payment could become redundant unless a deal is reached soon.
"Talk is of July 20 being the next big deadline for Greece when €3.5bn is due back to the ECB, but at this rate things could be over well before then," said Angus Campbell, Senior Analyst at FXPro.
"The Eurogroup has made it clear that they expect Greece to initiate discussions with a new reform package, hardly what one would consider as an olive branch. Any new measures put forward by Greece will include debt forgiveness, a red line for creditors."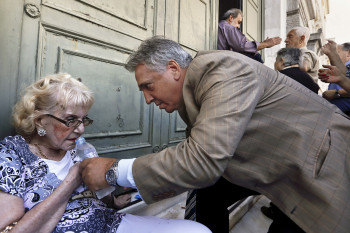 If the Eurogroup's "red line" remains in place and no deal can be reached, the prospect of a new currency, Greek banks raiding deposits, and ultimately a Grexit, becomes closer to reality.
Sunday's bailout referendum result may have emboldened Tsipras politically, but the economic reality on the ground could quickly eat away at his popularity among the Greek people. In addition to problems before the crisis began – plummeting incomes and skyrocketing unemployment – the prospect of a new currency and deposit seizures could cause major social unrest.
Tsipras' own red lines – a rejection of demands to reform pensions, tax and labour laws – also stand in the way of a deal.
Something has to give soon, or Greece's banking system will collapse.