Great Britain's Dai Greene finished a disappointing fourth as Felix Sanchez turned back the clocked to regain his Olympic 400m hurdles title.
The 34 year old won gold at the Athens Olympics in 2004 and he repeated the feat with the fastest time in the world this year of 47.63 seconds to hold off American champion Michael Tinsley and pre-race favorite Javier Culson.
Culson was again too good for Greene, but the formerly unbeaten Puerto Rican suffered big-race nerves once again, as he failed to translate his dominance this season into Olympic gold.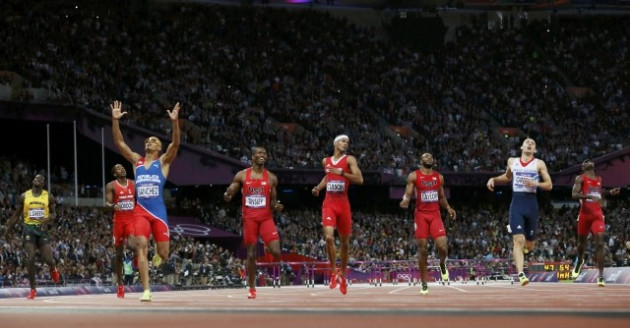 Greene, who reached the final as a fastest loser following a disastrous run in the semi-final, blamed a lack of fitness following knee surgery in the winter for his poor performance.
"I was a bit tired tonight, obviously the other night was a big shock in the semi-final and I was surprised that I went that fast," the Welshman, who was looking to become the first British winner of the 400m hurdles since David Hemery, said.
"I gave it everything I had tonight there was a bit better strategy to my race but I was a bit too tired at the end there, a bit too tired really.
"It's affected my build-up [the surgery]. It's meant I couldn't start until half-way through January instead of October time but I can't argue too much I ran a personal best a few weeks ago.
"I think the endurance wasn't quite there for the rounds which shows that I missed out on a bit of the winter work and you can't always tell if it's there or not until you get into these majors.
"I was found wanting a bit at the end there but I couldn't have given it anything else tonight.
"I know coming in me and Culson were way ahead in the rankings but I've never been in a race before where people have gone above there expectation until Saturday night when everyone surprised me; it's sort of happened again tonight.
"A few of the guys really pulled something out, they're great competitors and I can't take anything away from them, Felix is a fantastic athlete and a worthy winner on the day."
In the women's 400m hurdles, Britain's Perri-Shakes Drayton missed out on a place in the final, after failing to qualify as one of two fastest losers, having finished third in heat two.
The former European bronze medalist finished third in her semi final, was originally handed a reprieve with Russian Denisa Rosolova having been disqualified for coming out of her lane during heat three.
However, following an appeal, Shakes-Drayton was demoted from the final as her Olympic hurdles campaign came to a sour end on home turf. Eilidh Child finished seventh in heat three to miss out also.
Before learning of her reprieve and the result of the subsequent appeal, the 23 year old said: "The hurdling went well but I was running a bit blind. I will just have to wait and see what happens in the next one.
"I ran slower than I did yesterday so I am disappointed but we'll wait and see. I am expecting the worse though. I said from the start I have to get to the final."
Meanwhile, Britain's wait for pole vault Olympic title continues after Holly Bleasdale finished joint-sixth after failing to clean 4.55m.
The British record holder came into the final looking to become the first GB athlete to win a medal in the event, but the 20 year old fell short with American Jennifer Suhr won gold ahead of Yarisley Silva and Elena Isinbaeva.