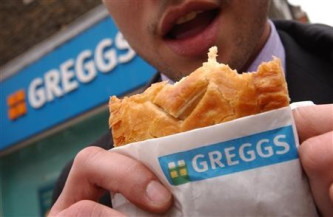 UK bakery chain Greggs has said it may slash 410 jobs despite its like-for-like sales increasing by 3.1% for the five weeks ending 4 January.
The retailer revealed in a trade update that it saw strong business over the Christmas and New Year period.
The firm said for the five week trading period ending 4 January 2014 total sales grew by 4.8% and like-for-like sales grew by 3.1%.
But the employer said it could slash 300 jobs as a result of scrapping in-store bakeries across 79 branches.
The firm also disclosed that around 110 roles may go as a result of restructuring the company's management and support teams across the country.
"I was very surprised when I heard the news," Ronnie Draper, general secretary of the Bakers Food and Allied Workers Union, told the IBTimes UK.
He added: "It's a good thing Greggs has returned to sales growth because that protects jobs throughout the company. But it's very disappointing that some workers will lose their jobs."
Draper stressed his union will do "all that it can" to mitigate the losses and, where that is not viable, look at the best deals the union can secure.
The company said it will be entering into a consultation exercise shortly to work with trade union and employee representatives of those affected to "refine and develop" the proposals.
Greggs claimed the proposed changes would result in one-off redundancy costs and asset impairment charges amounting to £9m ($14m, €10m) in 2014 of which £8m would be a cash cost.
The firm said it anticipates that the ongoing benefit of the cost reduction would be £6m per year from mid-2015 and that, excluding the one-off costs, there would be a benefit in 2014 of £2m.
During the year the retailer opened 68 new shops (including 15 franchised units) and increased the number of shop closures to 68 leaving total shop numbers unchanged with 1,671 shops trading at 28 December 2013.
The company now has 24 franchised shops in motorway service stations across the UK in partnership with Moto Hospitality.
"I am encouraged by the improvement in trading that we achieved as we progressed through the year, in part reflecting our new 'Bakery food-on-the-go' strategy," said Roger Whiteside, chief executive of Greggs.
He added: "As a result, full year results should be in line with our previous expectations. Whilst we face a number of challenges in the coming year we remain confident that we can make further progress with our strategic plan in 2014."