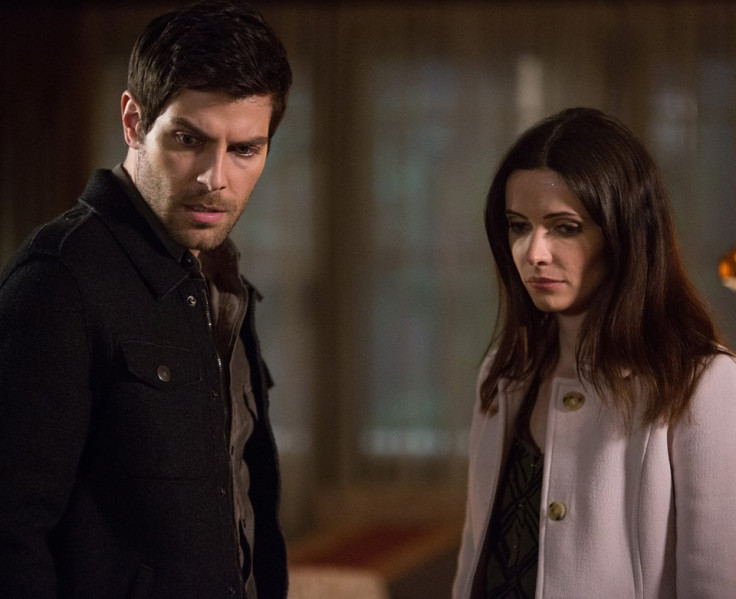 The upcoming episode of Grimm season 4 will find Adalind revealing to Nick that she is pregnant with his baby, thereby ruining his already troubled relationship with Juliette forever.
Episode 19 is titled Iron Hans, where a Wesen rite of passage becomes deadly.
According to the official synopsis, "Nick (David Giuntoli) and Hank (Russell Hornsby) are brought in to investigate a homicide they learn is connected to an age-old Wesen rite of passage. Meanwhile, Juliette (Bitsie Tulloch) makes a surprising new ally."
Elsewhere, Captain Renard (Sasha Roiz) continues to battle darkness within, and Nick finds hope for Juliette in the last person he expected, Adalind (Claire Coffee). Silas Weir Mitchell, Reggie Lee, and Bree Turner also star.
Going by the promo, Adalind's revelation of her pregnancy to Nick creates a lot of complications.
The promo ends with Juliette seeing Nick and Adalind together, and saying, "So, it's true. I am going to rip this b***h's throat out."
Co-creators James Kouf and David Greenwalt talk Juliette and Nick's relationship and the season 4 finale.
The producers advise fans who are hoping for a happy ending to Nick and Juliette's recent struggles and her acclimating to her Hexenbiestiality, to temper expectations.
"She's out of control," Greenwalt told Tvline. "Imagine a baby with a bottle and a gun." That'll leave Juliette free to, perhaps, re-start her fling with a certain police captain? "They might make hate at some point," he added.
Meanwhile, the investigation into a Jack the Ripper copycat will span multiple episodes and place one of Portland's finest in grave danger. While Trubel's back, "you don't really know it's her," Greenwalt teased.
Besides, "Baby Diana will be seen, but not in the same form as before." Elsewhere, Adalind works with Rosalee and Monroe on a last-ditch cure for Juliette.
About the Grimm season 4 finale, the report says, "an insane discovery sends Nick hurtling down a path of revenge, aimed straight for the Royals. And having rejected help from Monroe and Rosalee, Juliette spirals faster into the 'biest abyss."