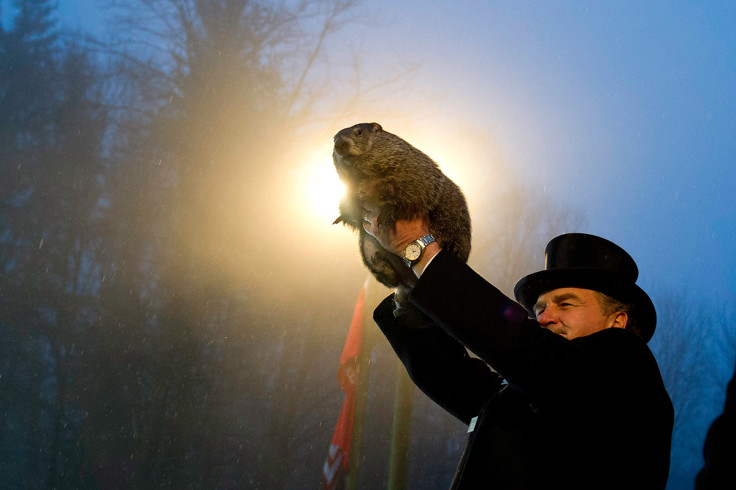 Thousands of people in the Pennsylvania town of Punxsutawney are waiting for the annual weather prediction made by Punxsutawney Phil – a large rodent which emerges from its home with either good or bad news.
Every year, Groundhog Day is celebrated on 2 February to mark the temporary arrival of Phil, who comes out from his temporary home on Gobbler's Knob, a rural area east of the town. If Phil sees his shadow and returns to his hole, six more weeks of winter weather will ensue. If Phil doesn't see his shadow, he has predicted an early spring, according to tradition.
Staging events to mark Groundhog Day dates back to 1887. The Punxsutawney event is the largest celebration of the day, immortalised by Bill Murray's 1993 film, where crowds as large as 40,000 have gathered to celebrate the holiday for more than 100 years.
Where did the tradition come from?
Groundhog Day has its roots in the ancient Christian tradition of Candlemas Day, when clergy would bless and distribute candles for winter. The candles represented how long and cold winter would be. German settlers in the area expanded on this tradition by selecting a groundhog as a means of predicting the weather.
The groundhog, marmot monax, is a rodent which belongs to the group of large ground squirrels known as marmots. In February, the mammals emerge from their burrows to seek mates, before going underground again and coming out of hibernation in March.
In the US, the first reference to Groundhog Day can be found in a diary of a shopkeeper called James Morris from Morgantown, Pennsylvania, dated 4 February 1841.
"Last Tuesday, the 2nd, was Candlemas day, the day on which, according to the Germans, the Groundhog peeps out of his winter quarters and if he sees his shadow he pops back for another six weeks' nap, but if the day be cloudy he remains out, as the weather is to be moderate."
In 1887, a newspaper editor belonging to a group of groundhog hunters from Punxsutawney called the Punxsutawney Groundhog Club declared that Phil, the Punxsutawney groundhog, was America's only true weather-forecasting groundhog.
In 1993, the film Groundhog Day starring Bill Murray popularised the term "groundhog day" to mean the repetition of something.