Rockstar has finally announced its highly-anticipated release of Ill-Gotten Gains DLC event weekend for GTA 5 Online starting 12 June through 14 June, according to the game maker's recent post on Newswire.
Avid GTA 5 gamers who wish to earn a lot money (GTA$) and Reputation Points (RP) in the online version of the game can participate in the Social Club Sweepstakes, Double Cash Adversary Modes and more, while Rockstar live-streams some of these events on its twitch channel and Social Club events page.
Double Cash (GTA$) Adversary Modes
The Adversary Modes which came out with the release of GTA Online Heists also returns the opportunity to maximise your winnings with a chance to fiddle with three new Modes including tactics such as mowing over cyclists in a truck, executing sawn-off shotgun drive-bys and defending against onrushing bounty hunters vying for your head.
All participants get to make double the cash prize by playing in any of these Adversary Modes during the weekend event, which can be activated by hitting the Event button during the GTA 5 boot screens.
This will take you inside a lobby with other cynical mercenaries rooting to go for the kill, after a long haul of heavy loot filled baggage.
Those who stick around till the end of the Event Playlist will be duly rewarded with an explosive armoury completion bonus kit that comprises of sticky bombs, Molotovs, proximity mines and body armour.
Double RP races on land, sea and air
You can now enjoy double RP in all races (comprising land, sea and air) all weekend with the privilege to choose between your favourite new rides for each race including Pegassi Osiris, the Benefactor Stirling with gull-wing doors, or the sumptuous Luxor Deluxe.
25% discount on high-end luxury apartments and garages
Get a whopping 25% discount on the purchase of any luxury apartment or garage in Los Santos and Blaine County during the weekend event spanning 12 June to 14 June in GTA Online.
The acquisition of more garages should help you store more cars, as the Ill-Gotten DLC will make you spoilt for choice by throwing a barrage of new luxury cars.
Look for exclusive T-shirts with high-frequency crate drops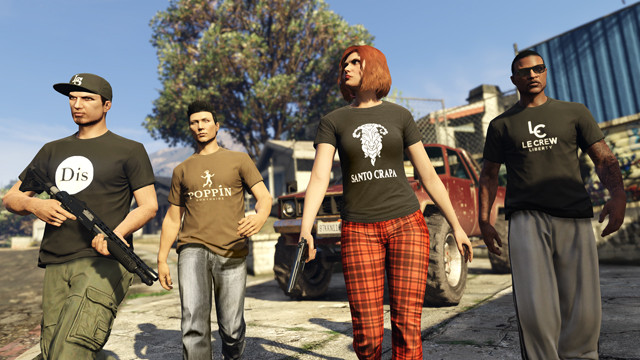 If you are penniless and have no money to buy clothes after spending all your fortune on luxury cars, apartments, and garages, following the release of Ill-Gotten Gains DLC, then you should be looking out for those exclusive T-shirt bounties being air-delivered through Event Crate Drops.
Tip: An increased frequency of Crate Drops is expected around the luxurious hangouts of Los Santos in the vicinity of the racetrack, yacht club, and Rockford Hills.
The Crate Drops will make you richer by GTA$10, 000 and you can celebrate your new found wealth with exclusive in-game T-shirts scattered all over the map that is earmarked for the Crate Drops.
GTA$1M Snapmatic Contest
Avid photography fans can now participate in GTA$1M Snapmatic Contest and get rewarded with a million dollar in-game cash prize for the best-looking snapshot taken on the iFruit's camera.
The only catch is that you are eligible to submit only those snapshots depicting your rags and riches earned with Ill-Gotten Gains DLC. So, just take a cool snapshot of your newly purchased luxury car with some visually stunning customisations or dress yourself like a king with the finest fur and jewellery from the new wardrobe options.
Social Club Sweepstakes now live
Give yourself a chance to win a lavish set of GTA 5 goods by participating in the Social Club Sweepstakes including the GTA 5 Chromo Zippo, Grotti Polo, Epsilon Pendant, and a copy of the Welcome to Los Santos album, besides some GTA 5 T-shirt and stickers.
The Sweepstakes event will be telecast live via the Social Club Events page for your convenience. You can also enjoy the live-streaming of various competitive events as part of Rockstar's official Event Weekend Live Stream event starting on 12 June at 5pm ET.
You will also get the chance to participate in official lobbies with special guest Funhaus, and play the brand new Jobs from the Ill-Gotten Gains update: Part One along with custom-meta games featuring the new content.