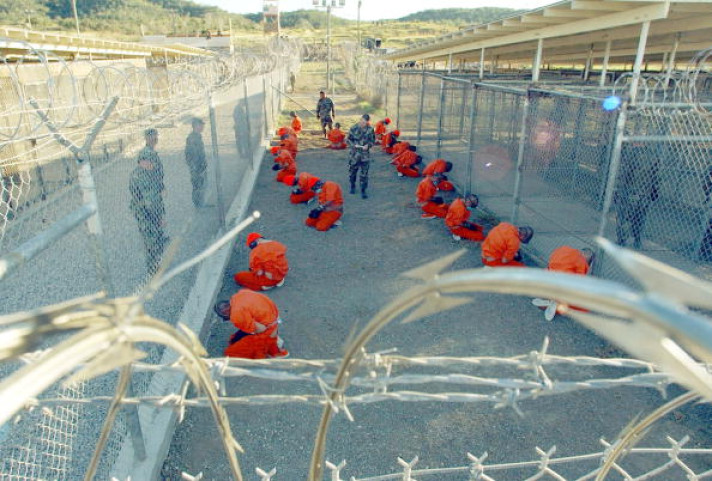 Approximately 79 of the 149 detainees who have been held at the Guantanamo Bay Detention Camp for decades await a final signature from the Pentagon approving their release, despite being told years ago that they pose no security risk and can be sent home.
In June, a senior US official had said that there would be "substantial progress" in 2014 towards President Obama's vow to close the highly criticized and costly, Guantanamo Bay operation.
Yet so far this year, only one prisoner who had been approved for release was freed.
United States Senator for California Dianne Feinstein told AFP that, "continued delay on closing Guantanamo is unacceptable, whether it is from roadblocks put up by some in Congress or from some in the administration."
Most recently, the two American journalists who were beheaded by Islamic State (Isis) militants were seen wearing similar orange-coloured jumpsuits as those worn by Guantanamo Bay detainees, shedding light on the long-term effects of the entire Bush-led "war on terror" following the September 11 attacks.
AFP reports that despite being given a green light from five of the six government agencies involved, under the law, the Secretary of Defence Chuck Hagel has to give the final approval for each detainee's transfer before they can be freed.
Andrea Prasow, Deputy Washington director at Human Rights Watch said: "This is a problem we've had from three successive secretaries of defence. Congress created the structure, making the secretary of defence personally responsible for whatever happens — and the secretaries have been understandably reluctant to sign up for personal responsibility for anything that might happen."
Lives on Hold
Forty-four-year-old, Mauritanian Ahmad Abdul Aziz is one such Guantanamo Bay detainee whose life remains on hold.
Aziz was arrested in Pakistan in 2002 and shipped off to the Guantanamo Bay for having alleged links to Al-Qaeda. He denies any connections to the terror organisation and claims money was exchanged for his capture.
Aziz had left behind a pregnant wife and is eager to see his son who he has never met.
His lawyer, Anna Holland Edwards, said there are only, "so many formative years left and he wants to spend those years with his son. He often talks not about living in Guantanamo, but of living in a grave. There is of course pressure to make sure no mistakes are made at the expense of progress. But I have the sense there are many dedicated people working very hard now in the government to change that right now."
In response, speaking at the State Department, Ian Moss, spokesman for the special envoy to Guantanamo, Cliff Sloan, said: "We are actively working to transfer each of the 79 detainees approved for transfer."
Yet Senator Feinstein insists, "It is far past time to close Guantanamo, an ugly stain on the history of the United States. Every day it is open, we weaken our national security by emboldening extremists, we isolate ourselves internationally and we waste taxpayer money."