It's been known for some time that when writer-director James Gunn was penning the script for eagerly-anticipated sequel Guardians of the Galaxy Vol 2, he originally included a well-known Marvel Comics character that didn't make into the final cut. In earlier interviews, the filmmaker has always been coy as to who it was, but now, he's revealed that Adam Warlock was the figure who almost made it into the film.
"I love Adam Warlock. He's one of my favorite characters," Gunn recently told Slash Film during a press junket in Hollywood. "In all truth, I wrote an early treatment where I had Adam Warlock as a part...this is your big scoop, because I don't think I've told anybody this... It was Adam Warlock. He was a big part of the screenplay and I realised it was one character too many.
"I adored the character. I adored what we had done with him. I think we did something really creative and unique with Adam Warlock. But it was one character too many and I didn't want to lose Mantis, and Mantis was more organically part of the movie anyway. So I decided to save him for later."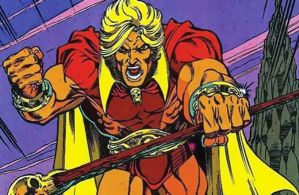 Within the comics, Warlock is one of Thanos' biggest rivals at times. In the Infinity Gauntlet issues, he was instrumental in saving the world from The Mad Titan, particularly when it came to the Soul Gems – items he's been actively trying to track down within the Marvel Cinematic Universe since his first appearance in 2012's Avengers Assemble.
Thanos won't be showing up in Guardians of the Galaxy Vol 2, as Gunn wanted to focus on the relationship between the character's two daughters; Gamora and Nebula, rather than the big bad himself. Perhaps that's why Warlock didn't make it into the movie either considering his strong link to the purple villain.
During the same junket, Marvel Studios president Kevin Feige told the publication that while Warlock will not be in Avengers: Infinity War, "he will be a part of the future Marvel cosmic universe and a pretty important part" at that. "If he appears anywhere in the future, it'll be in Guardians," he concluded. Seeing as Gunn has recently divulged that he'll be back to write and helm the third instalment in the trilogy, then it seems likely that his unused Warlock material may resurface.
Starring the usual suspects Dave Bautista, Zoe Saldana and Chris Pratt as well as newcomers Pom Klementieff, Elizabeth Debicki, Sylvester Stallone and Kurt Russell, Guardians of the Galaxy Vol 2 is scheduled to reach UK cinemas on 28 April 2017 and 5 May in the US.