Featuring songs as catchy as I'm Hooked On A Feeling by Blue Swede and The Jackson's 5 I Want You Back, Guardians Of The Galaxy's soundtrack was almost as popular as the film itself when both were released back in 2014. Thanks to its success, upcoming Marvel sequel Guardians of the Galaxy Vol. 2 doesn't want to disappoint on the music front... which is why writer-director James Gunn has crammed it full of gems from the 1960's and 70's...
Along with several well-known songs including The Chain by Fleetwood Mac, Bring it On Home to Me by Sam Cooke and Electric Light Orchestra's Mr Blue Sky (which will open the film), the movie will feature an original track co-written by director James Gunn and and score composer Tyler Bates. Entitled Guardians Inferno, the disco song boasts vocals from David Hasselhoff and incorporates lyrics such as "procyon lotor" and "raccoon motor"... of course.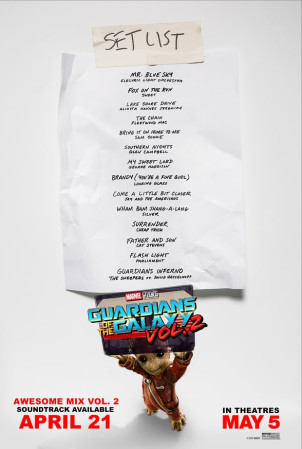 Other singles on the soundtrack include Parliament's Flashlight, Cheap Trick's Surrender, Silver's Wham-Bam-Shang-A-Lang, Brandy You're A Fine Girl by Looking Glass, Jay and the Americans' Come a Little Bit Closer and My Sweet Lord by George Harrison. Sweet's Fox on the Run, Lake Shore Drive by Aliotta Haynes Jeremiah and Glen Campbell's Southern Nights also appear.
Reuniting titular heroes Star-Lord (Chris Pratt), Gamora (Zoe Saldana), Drax (Dave Bautista), Rocket (Bradley Cooper) and Baby Groot (Vin Diesel), Guardians of the Galaxy Vol 2 will see the unlikely group team with former enemy Nebula (Karen Gillan) and a whole host of others to stop the villainous Ayesha (Elizabeth Debicki) from destroying the cosmos. Throughout the film, Star-Lord aka Peter Quill will also be trying to unravel the mystery that is his true parentage... which explains why Cat Stevens' Father and Son is the final ditty on the 14-song soundtrack.
Also starring Michael Rooker, Pom Klementieff, Nathan Fillion and Kurt Russell as Star-Lord's dad, Ego, Guardians of the Galaxy Vol 2 is scheduled to reach UK cinemas on 28 April 2017 and 5 May in the US.
Guardians of the Galaxy Vol. 2 soundtrack is currently streaming on Spotify. It will be available to purchase from 21 April in the US and 28 April in the UK.