The Guardians Of The Galaxy, and creator/director James Gunn, are looking for new recruits to join ranks with the unlikely heroes ahead of Vol 2, suggests a recent report from Geek.com. And it seems they have their sights set on three particular characters that are all known within the Marvel Universe.
"According to a source close with the production, Peter Quill [aka Star-Lord, aka Chris Pratt] will be signing some new members onto the roster; he'll be joined by Yondu, bad girl Nebula, and newcomer Mantis."
Yondu (played by The Walking Dead's Michael Rooker) is a no-brainer, if the rumours are true. He was one of the standout supporting players in the first Guardians movie, and Gunn appears to love working with Rooker (he also appeared in his great horror comedy Slither). We saw hints of Yondu's powers in the 2014 film, what with his arrow that is controlled solely by his whistle, so it'll be great to see what he can do when his skills are really put to the test.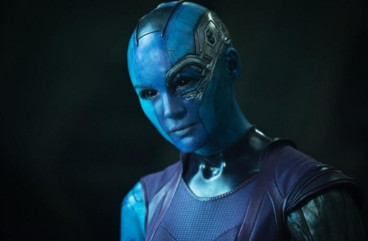 Within the comics, Mantis, the only recent addition who wasn't seen in the previous Guardians movie, is a former member of both The Avengers and the galaxy protectors. Her powers include telepathy and psychic empathy, a gift that allows her to sense emotions in others.
In recent years, she has had a history with Yondu with whom she shares a friendly rivalry and close friendship. So it makes sense that she could join the Guardians' developing roster alongside him.
She was also trained to become a highly-skilled martial arts fighter and has even triumphed over opponents such as Captain America and Thor throughout her numerous storylines. Lastly, she's possesses the ability to control plants and vegetation. In which case, she certainly seems like a handy person to have on your side when you're trying to beat bad guys and simultaneously grow your old tree friend Groot back to full size!
The most unlikely addition aboard the Milano is Gamora's adopted sister, and ruthless enemy of the Guardians in the first instalment, Nebula. In the comics, she is a member of Gamora's female warrior team The Graces, who actively fight the first film's antagonist Ronan The Accuser. But since he seemed to meet his demise at the end of the movie, the only way we could see these two burying the hatchet now is over their shared hatred of their father, and Mad Titan, Thanos.
Alongside Pratt, returning stars to the developing series include Zoe Saldana, Dave Bautista and Bradley Cooper. Vin Diesel, who voiced Flora colossus Groot in the first instalment, is also said to be reprising his role. Guardians Of The Galaxy Vol 2 is scheduled for a UK release in cinemas on 28 April 2017 and 5 May in the US.
For more entertainment news follow A-List on Twitter @Alistinsider