For almost a decade, followers of cult television series The X-Files were promised that 'the truth is out there'. However when the original show ended in 2002, we were actually left with a number of unanswered questions and unravelled plot threads. The films that followed were meant to clear things up later, but a legal dispute between creator/showrunner Chris Carter and studio 20th Century Fox meant that the first feature film wasn't released until six years after the final episode was aired.
The movie, entitled I Want To Believe, was an obvious cash cow and didn't exactly satisfy fans of the show, and the alternative long-promised films never did see the light of day. However, all of that looks to be rectified now, suggests Carter, in the six-part miniseries that began in the US last night.
Set eight years after former FBI agents Fox Mulder (David Duchovny) and Dana Scully (Gillian Anderson) laid to rest their now-long-dormant investigations into the paranormal, the new continuation show sees them reunite to re-open some of the cases and revisit their initial discoveries. Originally, the mythology that drove the show revolved around the gradual colonisation of Earth by a race of extraterrestrial beings that were last here millennia ago, when the last ice age drove them off the planet. Working with a secret government body that called itself the Syndicate, the two parties agreed on a colonisation date of 22 December 2012 – which, of course, has now been and gone.
However, the new episodes do not seem to adhere to the story of depicting a destroyed humanity. Carter opted instead to have the alien invasion never take place. When asked whether he still sees the world-ending event as the lynchpin of the entire X-Files storyline – or if he views it differently now, and it has become a far-off backdrop for Mulder and Scully's stories to have been told against – Carter replied: "I see it as now part and parcel of a conspiracy that has actually mushroomed. It's not as if we're saying that what Mulder once believed can be thrown out the window – it's now that what Mulder once believed is a fraction of what looks like a much larger picture that had been kept from him."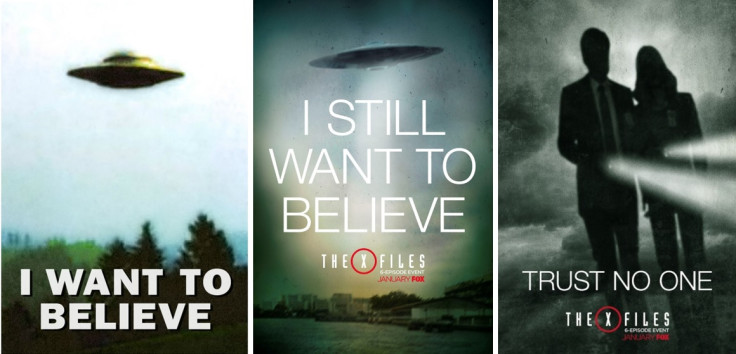 The ideas of a bigger conspiracy becoming the basis of these new episodes makes sense when you look at the new posters for the miniseries. While the iconic 'I want to believe' poster we first saw in Mulder's basement office at the J Edgar Hoover Building in Washington DC in the pilot episode exhibits a hopeful kind of wondering, the newer images are a little more sceptical. The 'Trust no one' poster in particular supports the idea that this new series is going to be more about unknown conspiracies on Earth rather than extraterrestrial events or subjects that have been visited on the original show before.
But will Mulder be able to get to the bottom of everything in just six instalments? Carter is certainly cryptic on that point.
"It's interesting. You've got a heroic quality – he's the most unlikely hero, but he does have a kind of heroic quality in that sense, and the mythology that developed around him gave him a kind of saviour-like quality. That said, I would never label him a saviour, but I would label him an agent of change. I would only spoil it for you if I told you, but I can tell you that they come back in a way that you will absolutely never expect. If I gave you a hundred guesses right now, you'd never get it."
As always, everything about The X-Files is shrouded in secrecy, and we can only guess what kind of storylines we will be subjected to across the remaining five episodes. Let's just hope that things are a little more conclusive this time when the ending comes around. The X-Files continues tonight (25 January 2016) on FOX at 8pm EST.
For more entertainment news follow A-List on Twitter @Alistinsider