Saturday's (17 June) celebration of Queen Elizabeth II's official birthday was marked with the customary Trooping the Colour but the sweltering London sun was too much for some guardsmen.
With the monarch and her family eagerly watching the military display in 25C heat, an astonishing five soldiers collapsed, according to the Press Association.
Video footage shows one bearskin clad trooper fall over face first onto Horse Guards Parade, close to the Queen's residence of Buckingham Palace.
Unperturbed, the other servicemen, numbering more than 1,000, maintained their positions as if nothing had happened.
Well over a minute after the unconscious serviceman had hit the deck, he was collected by military medics, bundled onto a stretcher and removed from the parade ground.
An Army spokeswoman said: "We can confirm that during the Queen's birthday parade today a small number of soldiers fainted.
"It is an extremely hot day and all were removed from the Parade and checked by medical staff where they were hydrated."
The Trooping of the Colour has been performed since 1748 to celebrate the official birthday of the British sovereign.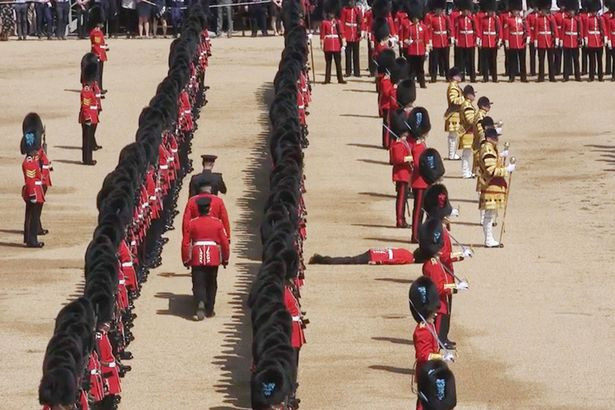 Queen Elizabeth enjoyed her 91st official birthday today. She marked the occasion with an unprecedented speech in which she acknowledged the heartbreaking effects of the three major terrorist attacks committed against Britain in 2017 as well as the Grenfell Tower fire.
She said: "During recent visits in Manchester and London, I have been profoundly struck by the immediate inclination of people throughout the country to offer comfort and support to those in desperate need."
"United in our sadness, we are equally determined, without fear or favour, to support all those rebuilding lives so horribly affected by injury and loss," she added.