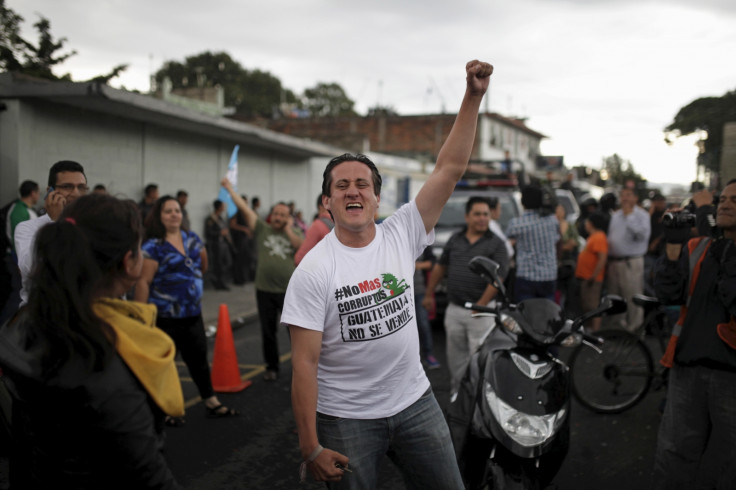 Guatemala's vice-president Alejandro Maldonado, a former judge, has been sworn in as the new leader of the country as former president Otto Pérez Molina was sent to jail immediately after he quit over a corruption scandal. Maldonado has taken over as the interim leader and will remain president until the next ruler comes to power in January 2016.
Shortly after he took over, Maldonado promised to have an inclusive administration in the face of growing protests against corruption allegations. The 79-year-old former member of Guatemala's top court pledged to "leave a legacy of honesty".
Reaching out to anti-government protesters, Maldonado said: "You can't consider your work done. In what is left of this year, there must be a positive response."
Maldonado took over as vice-president in May 2015 to replace Roxana Baldetti, who also resigned due to corruption allegations. Maldonado has earlier served as foreign minister and donned ambassadorial roles as well.
Guatemala witnessed high political drama as Judge Miguel Ángel Gálvez ordered the arrest of Pérez Molina until the pre-trial hearings are over. He became the first Guatemalan president to step down.
"This is a day to celebrate for many of us who have been seeking a fairer Guatemala, where impunity disappears and corrupt politicians go to jail," Lucía Corella, a student at San Carlos University, told the New York Times.
Anti-government protesters have been calling for a thorough probe into the alleged involvement of Pérez Molina, once a powerful political figure, in a mass corruption ring. "I have always said I will respect due process. I do not have the slightest intention of leaving the country," said Pérez Molina, a 64-year-old retired military general.
He has been accused of helping private firms in exchange for kickbacks, but he denies any wrongdoing. In the scheme known as La Linea or The Line, more than 100 people are being probed for allegedly granting permissions to businesses to evade import duties by taking bribes.