A gun battle between police and armed men near a shantytown in Rio de Janeiro forced the Olympic host city's Roman Catholic Archbishop to hide behind his car. Cardinal Orani Tempesta was heading to the Brazilian city's airport when the bullets started flying, forcing his car to stop, according the archdiocese website. He was not injured.
As the gun battle raged, the Cardinal was forced to shelter behind his car until the shooting subsided after about 10 minutes, allowing him to continue with his journey.
No stranger to danger, the Archbishop was robbed at gunpoint by three armed men as he travelled through the city of Santa Teresa with a photographer and seminary student in September 2014.
One of the trio reportedly recognised the cardinal and apologised but the gang continued to rob the party, also taking the cardinal's pen, mobile phone, and the photographer's equipment. Again, nobody was hurt.
In a statement issued at the time from the diocese of Sao Sebastiao, Rio de Janeiro said that they only spared his life because they recognised him.
"Dom Orani took a reserve cross and went to his scheduled appointment," it said.
In a separate incident, on 9 June 2014, the competitive shooter and Navy sergeant Anna Paula Cotta was shot in the head during an attempted hold up in Rio de Janeiro.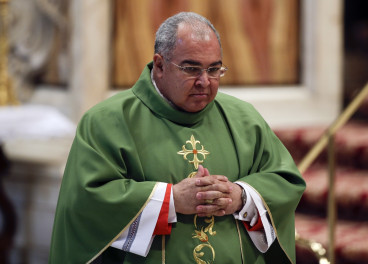 The Brazilian Navy said she was shot on Thursday and was listed in serious condition at the Marcilio Dias Naval Hospital.
Local media said the 27-year-old Cotta had tried out for the Olympic team but failed to qualify. She was scheduled to take part in a Brazilian shooting championship on 11 June.
The incidents are sure to raise concerns ahead of August's Olympic Games in the city where armed clashed are a deadly and daily fact of life.
The violence is typically concentrated in the favelas, the hilltop slums where heavily-armed drug gangs have long held sway.