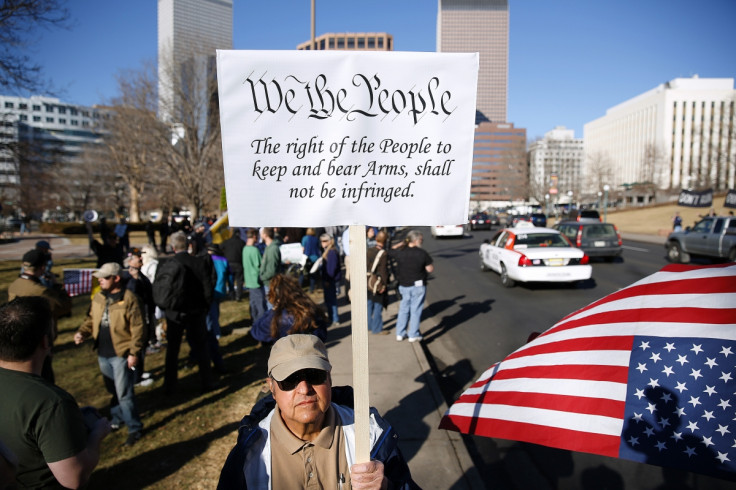 Pro-gun campaigners have planned a "fake mass shooting" in Austin, Texas on 12 December. The event is being held near the University of Texas to stress the danger of gun-free zones and the need for "personal safety".
The event is expected to begin with a walk with rifles and black powder pistols, which will then be followed by a staged shoot-out with cardboard weapons. Organisers estimate that more than 200 people will attend, which is reportedly going to blast the sound of bullets from a loudspeaker during the mock shooting.
"It's a fake mass shooting, and we'll use fake blood," said Matthew Short, spokesperson for Come and Take It Texas, one of the groups that is organising the event. "Criminals that want to do evil things and commit murder go places where people are not going to be able to stop them...We love freedom and we're trying to make more freedom."
The pro-gun event will be held days after the University of Texas Task Force recommended allowing students to carry guns inside their classrooms. Loaded weapons are currently forbidden on campus, however, a new Texas law that comes into effect in August 2016 will allow concealed weapons to be carried in places on campus that aren't restricted.
Pro-gun groups want to ensure that there are as few restricted areas as possible. A statement on Come And Take It's Facebook page said that it was "clear" that gun-free zones were "killing us" and that they are "letting our children be murdered by evil people". The group is hoping that their event will put pressure on politicians to ban gun-free zones.
Steve Goode, chair of the university's task force, said: "Let me be perfectly clear about this, every member of the working group thinks that we would be best if we did not have handguns in the classroom." However, the law professor said that the task force felt they could not recommend the exclusion of handguns in classrooms without violating the Senate Bill 11.