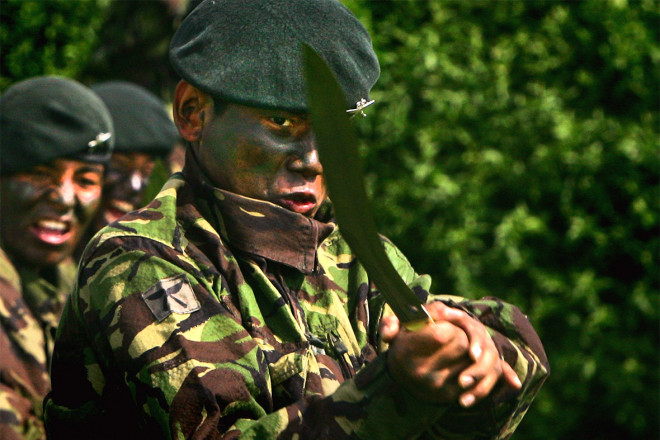 Former Gurkha soldiers are being employed to protect properties across north west London following a recent spate of robberies in the area.
Homeowners in in prestigious Hampstead Garden Suburb, where house prices begin at £2 million ($3.2m) have spent tens out thousands of pounds protecting their houses following a spate of burglaries involving mopeds.
As well as money being spent on additional security features such as reinforced doors and iron bars, police are also putting on additional patrol officers in the area in a bid to warn off any potential criminals.
People are on high alert in the area following at least a dozen robberies involving burglars using mopeds occurring in the area in the past three months.
As part of the additional security, some residents are choosing to hire ex-Gurkhas to protect their properties.
One of the former soldier hired to patrol the area is cprl Nanda Gurung who, who served 17 years in the Gurkhas, reported the Evening Standard.
David Smith, chairman of private company, LCS Security – who have as much as five cars patrolling the area at night- said people felt reassured by the "physical presence" of a guard.
Smith, a retired Met Police commander, said: "Our work provides a visible deterrent. It's taking crime prevention one step further. For our customers it provides great peace of mind and reduces the fear of crime."
An embassy located near to where Muammar Gaddafi's son, Saadi, once owned a £10 million mansion was targeted in December during the latest batch of burglaries in the area.
Homes in the normally genteel areas of Hampstead Garden Suburb and neighbouring East Finchley have the fifth highest rate of home insurance claims for burglary in the UK, according to figures from price comparison website Moneysupermarket.com.
Gurkhas are closely associated with the Khukuri, a forward-curving Nepalese knife and have a well known reputation for their fearless military prowess. The former Indian Army Chief of Staff Field Marshal Sam Manekshaw, once stated that: "If a man says he is not afraid of dying, he is either lying or is a Gurkha."