British Prime Minister Theresa May has announced that negotiations for the UK to leave the European Union will begin by March 2017.
May announced that she will trigger Article 50 of the Lisbon Treaty, which will begin the two-year process of negotiating the UK's withdrawal from the economic alliance, on the BBC's The Andrew Marr show on Sunday (2 October).
The leader of the Conservative party also confirmed she would be announcing a "Great Repeal Bill" in the next Queen's Speech, which will allow for EU laws to be integrated into UK legislation.
May said she would not be giving a running commentary on negotiations in order to "get the best deal" from Europe, however, she did confirm wheels would be in motion "for the first quarter of 2017".
"When it's right to talk about the approach we're taking then, of course, we will do that," she said.
"I will be saying in my speech today that we will trigger [Article 50] before the end of March next year."
May also confirmed the "Great Repeal Bill" would give "a greater deal of clarity" to allow for a "smooth transition" out of the EU.
"It's an important step we're taking because, first of all, it makes it very clear to the British people who voted to leave the EU that is exactly what we will be doing," she said.
"Secondly, it gives a greater deal of clarity about the timetables we will be following and crucially it's important for us to set this out now so we have the timing so when we leave the EU we have a smooth transition."
She also said the "Great Repeal Bill" would be vital in making Britain an "independent and sovereign" nation.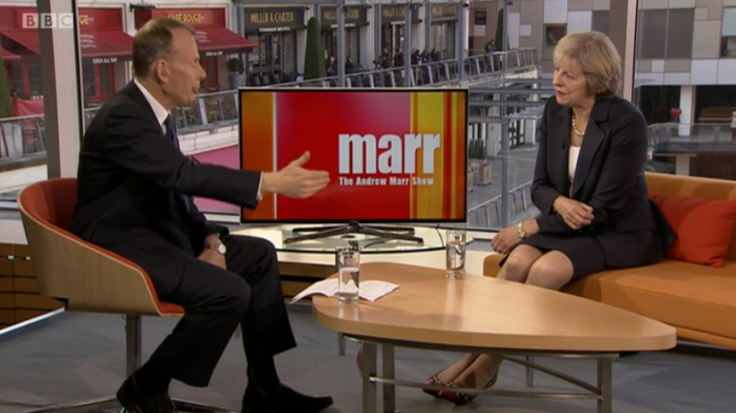 She said: "We will take European law into UK law and then, Parliament will be able to decide whether we wish to change those or keep them.
"I think it's important that we bring those laws into UK laws as that guarantees workers rights, and that's very important."
She also addressed the growing question mark over immigration and how freedom of movement with Europe will be affected once Article 50 is triggered.
Selective schooling
The prime minister reiterated her mantra of aspiration on the programme, outlining her conviction that the introduction of grammar schools would provide "good school places for every child".
"I want a country that works for everyone, that's an economy where everyone's playing by the same rules, a society where people can go where their talents take them," she said.
"At the moment, we have a legislation in place where you cannot set up a selective school when we all know we already have a selection by house price, by wealth.
"This is about ensuring we have good school places for every child, it's about the capacity of the system."
In a rare move, May answered a more personal line of questioning, when Marr asked about her upbringing and her parents' financial background.
She described her childhood as "very happy and stable" and spoke of her parents' insistence that she should always do her best.
She said: "I did lose both my parents very early on, and quickly one after another, I hope what I have continued to do throughout my political career is do what they wanted me to do which is to always try to do the best in whatever job I do and to give back."