Gwendoline Christie caught everyone's eyes as the badass female knight Brienne Of Tarth in HBO fantasy series Game Of Thrones, and can currently be seen on the big screen in the last instalment of The Hunger Games saga, Mockingjay - Part 2, but her list of impressive and boundary-pushing roles doesn't end there. The 37-year-old will next star in eagerly anticipated sci-fi epic Star Wars: The Force Awakens, as the series' first female villain seen in the movies.
In an interview with Empire magazine, as part of its Episode VII-themed December issues, Christie discusses just how she landed the role of antagonist Captain Phasma and how she thinks that her uncompromising onscreen character will spark a change the franchise.
"As soon as I heard that they were making Star Wars again, I was like a dog with a bone. Every part I was offered I'd say: 'That sounds great, but I want to be in Star Wars! Please, please, I want to be in Star Wars.'
"It's a great honour for me to play a part like Captain Phasma because I think it is changing things. It's exciting for me being the first (major) villain in Star Wars, but also a villain where we're all excited about who she is and what she's going to do, rather than just her flesh."
It's exciting that Star Wars movies are finally bringing forward a female character on the Dark Side, but it's even more exciting when considering that Christie was actually the one that inspired the part. Phasma's menacingly metallic look, complete with red-bordered cape and nickel-plated blaster, was actually intended for Adam Driver's villain Kylo Ren but director JJ Abrams instead decided it should be a new character... it should be female... and subsequently, it should be played by Christie.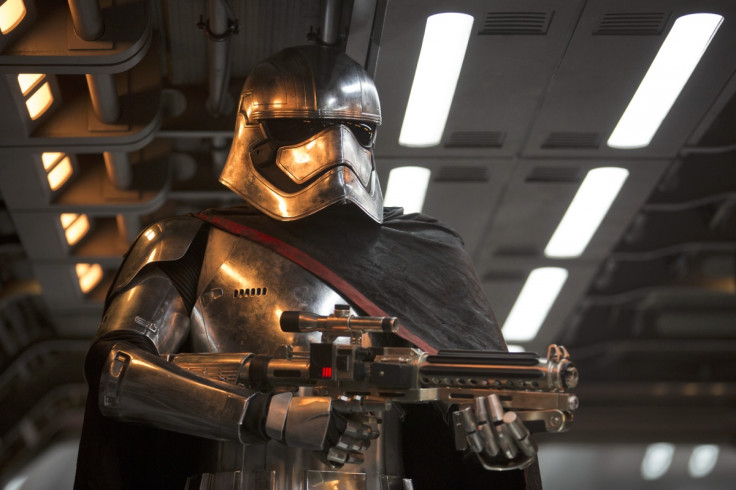 And it seems like she was just as excited about the whole thing too. "The day I met (costume designer) Michael Kaplan for the first time, he laid out that incredible costume. I slipped into a body suit and then had armour applied to me." She continued to tell the publication: "At the end, when they put the helmet on, I looked in the mirror and... the first thing I did was some sassy moves, because you've just got to, right?
"Then Domhnall Gleeson walks in, looking phenomenal in his uniform. And then JJ comes in. I felt like I was having some kind of mind implosion. I didn't want to take it off!"
You can see Christie's character Captain Phasma in all of her chrome Stormtrooper glory on one of the six special edition 3D covers Empire has released ahead of The Force Awakens release. The other issues focus on Daisy Ridley's protagonist Rey, John Boyega's Finn, Oscar Isaac's Poe Dameron, Kylo Ren and Harrison Ford's Han Solo featuring companion Chewbacca.
For more entertainment news follow A-List on Twitter @Alistinsider