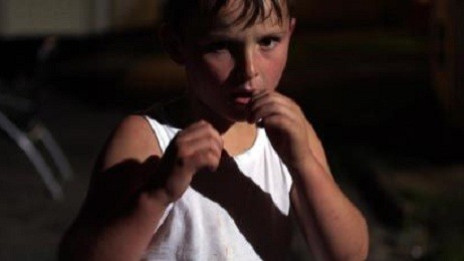 Award-winning documentary Gypsy Blood returns to British screens tonight, 12 months after it first exposed a father-to-son culture of violence in Britain's gypsy and traveller communities.
Gypsy Blood was filmed over two years by director and photographer Leo Maguire. He lived with gypsy communities for four years and was given intimate access to the men who live by rules of violence.
After its first release last January, Ofcom received hundreds of complaints about the film, including one from the RSPCA, which said it depicted animal cruelty.
Following the complaints, Channel 4 said: "Scenes were included that viewers may have found difficult but were justified in context."
In November, the documentary won the best newcomer prize at the Grierson Awards. Jury chairman Sarah Waldron, said it was "a film that would have distinguished itself in any category".
The film follows two families; the Doherty's and the Butchers. Hughie Doherty, 27, is the son of Francie 'The Punk' Doherty - once one of the most feared bare-knuckle boxers in the land.
Doherty wants to make his seven-year-old son Francie as tough as his grandfather, saying: "You're born with it ... and you won't have anyone make a fool out of you, or making you look small ... You would rather die, and fight till the bitter end."
A disease that gets into your blood
During the film, Francie is shown learning to read at primary school, while also learning to fight at home - he is shown in constant sparring sessions and has to take on an older boy to make his father proud.
He says: "When I'm in a fight, I have to remember it's not just for me, it's for my family and my name."
Doherty adds "It is like a disease, a disease that gets into your blood. And sometimes you close your eyes and for that moment I wish I wasn't like it, but you can't help it."
Fred Butcher, a Romany gypsy, said: "We don't take each other to court, we don't sue each other. If we have got a problem with each other we go out and fight."
Although he is a career fighter, Butcher is worried about his son, Freddy Cole's future living in their violent culture. Freddy is sensitive and is worried about his father getting hurt in a fight and Butcher is torn between his son and his fighting culture.
Despite having a constant fear of physical damage, fathers and sons continue the tradition of fighting, believing it to be what makes a man.
As one gypsy man says: "It's a lovely thing to see, when two men have a problem ... to sort it out like men."
Gypsy Blood is on Channel 4 at 10pm tonight (Thursday).