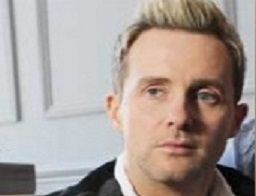 Singer 'H' from Steps has been left fuming after he was mistakenly identified as paedophile rocker Ian Watkins from Lostprophets for a second time.
The gaffe by two of America's biggest media corporations came only hours after H – real name Ian H Watkins - won a High Court apology from another US-based media outlet for making the same mistake.
'Tragedy' singer H said he was sent abuse online after E! Entertainment Television used his image in a story about child sex offender Watkins.
When the new error by CBS and Google came to light online, the 37-year-old star took to Twitter to vent his anger .
He attached a Google News screenshot depicting his face next to a CBS story about Watkins. The image was placed next to the story by Google on its newsfeed.
The conjunction of the BBC image and the CBS caption reading "File photo of Ian Watkins..." risked creating the wrong impression that H was the subject of the story, not the former Lostprophets singer.
Repeat offence

Only last month, H from Steps suffered the same error when E! used his image to illustrate a story about Watkins and his sex crimes.
Speaking after E! pleaded guilty for the first mix-up at the High Court, H's solicitor John Reid said " The error quickly came to the attention of the defendant, which promptly replaced the photograph with the correct one.
"This story was originally published with an image of Ian "H" Watkins of the band Steps rather than Ian Watkins of the Lostprophets. E! Online deeply regrets this error."
E! issued an apology for its mistake via a lawyer for "distress and damage caused."
Ex-Lostprophets frontman Ian Watkins was jailed for 35 years this week for a string of child sex crimes, including raping a baby, which plumbed new depths, a judge said.