Vigilante hackers on social media are spamming pro-Islamic State (Isis) accounts with thousands of graphic porn images. The covert computer experts are using Twitter to follow supporters of the extremists and militants with accounts known as "Pornbots".
These Pornbots only show randomly-generated graphic sexual images automatically but as they never tweet, they cannot be deleted as spam. It would seem that the hackers targeted accounts who have shown support for the jihadists using certain hashtags.
The sexual images are deeply offensive to IS and their supporters who follow an extreme version of Islam. The bots quickly follow their targets with sometimes several hundred accounts joining in just a few minutes.
One account was followed by 800 Pornbots in a few hours whilst another was hit with more than 4,000 explicit images. Their official IS media hub, Amaq, was also attacked by hundreds of Pornbots before it was disabled by the microblogging platform.
After a number of French accounts were hacked were made private by users who tried to stem the flow of graphic images. Both on Twitter and the internet a battle is raging between pro-Isis hackers and vigilante hackers like Anonymous which declared a cyber war on IS after the Paris terror attacks in November last year.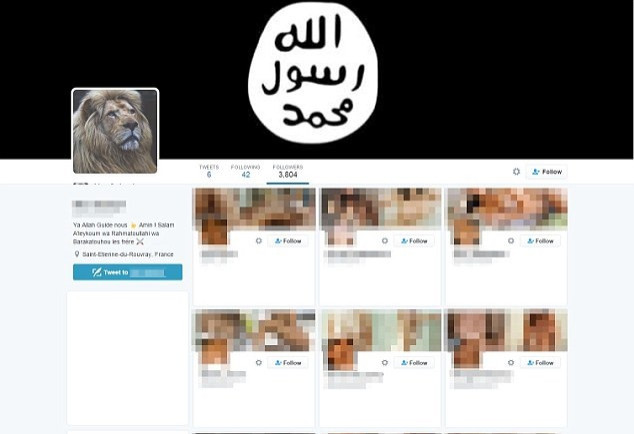 Soon after the Paris terror attacks an Anonymous supporter in a mask told the world that they would attack IS. "Anonymous from all over the world will hunt you down. You should know that we will find you, and we will not let you go. We will launch the biggest operation ever against you," the spokesman says in the video.
The masked speaker also hints at "massive cyberattacks", adding: "War is declared. Get prepared. The French people are stronger than you and will come out of this atrocity even stronger."
The hacktivist group began the #OpISIS campaign and has exposed hundreds of accounts of alleged IS supporters on Twitter. It also sends the geo-location of these accounts to security agencies in Europe and the US. They have also revealed the identities of many US and UK companies hosting pro-IS websites on their servers.