Two weeks after Hurricane Matthew tore through Haiti, killing about 1,000 people, the scale of the humanitarian disaster on the impoverished Caribbean island is becoming clear. More than 1.4 million people are in need of aid, including 175,000 who lost their homes and crops.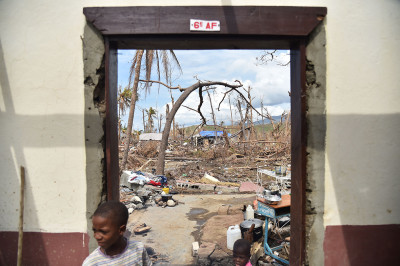 Haitian and international agricultural officials say it could take a decade or more for the southwestern peninsula to recover economically from Hurricane Matthew. The area's population is almost completely dependent on farming and fishing. In the Grand-Anse region, nearly 100 percent of crops and 50 percent of livestock were destroyed, according to the World Food Programme. On the outskirts of Les Cayes, more than 90 percent of crops were lost and the fishing industry was "paralysed" as material and equipment washed away, the organisation said.
The storm disrupted power, communications and transport links. Essential relief supplies such as roofing, food and medicines have been slow to reach many areas, prompting locals to blockade roads to try to stop passing trucks. Desperate for relief from hunger and sickness, many Haitians express their frustration — sometimes violently — at the lengthy delays for aid deliveries. A number of skirmishes have broken out as Haitians in hard-hit areas seek emergency aid distributed by international and local organisations.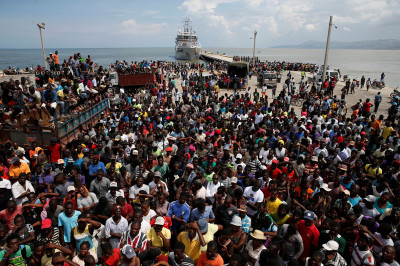 In addition, the country is facing a public health crisis as cholera gallops through rural communities lacking clean water, food and shelter. The wreckage left behind by the hurricane created perfect conditions for spreading the waterborne disease. floods swept through rural communities, taking with them bacteria from open latrines. Cholera is contracted by drinking contaminated water or eating contaminated food. It has a short incubation period, which leads to rapid outbreaks. It causes severe diarrhoea and can kill within hours if untreated.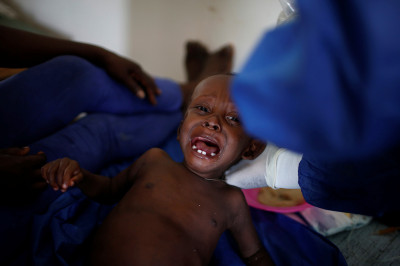 Cholera was introduced to Haiti accidentally by UN peacekeepers who dumped sewage into a river. The disease was unknown in Haiti until 2010. Multiple scientific studies have traced the outbreak to a base used by Nepalese peacekeepers and the strain of cholera is virtually identical to one endemic in Nepal. This original outbreak has since killed more than 9,000. The UN only acknowledged role in introducing cholera to Haiti in August, following a leaked internal report.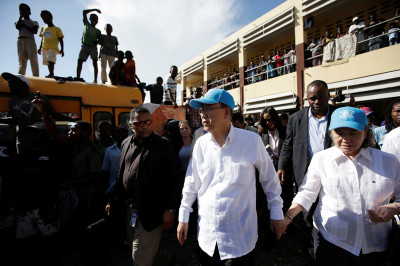 At one point UN officials said they were seeking about $181 million (£147m) for a special fund designed to help Haiti overcome cholera and build stronger water, sanitation and health systems. However, Ban mentioned no figures as he vowed to help the families of victims and "prevent and stop this cholera epidemic" by mobilising more UN resources. He expressed disappointment that international funding to fight cholera in Haiti is so far falling far short.
"I know that the world economic situation is not favourable, and I know that there is some donor fatigue by certain countries," he said at the end of his brief visit.