Nikki Haley, the US ambassador to the UN, has warned North Korea not to provoke a confrontation amid escalating tensions with the ostracised nation.
Tensions have been steadily rising as Pyongyang continues to conduct nuclear and missile tests. Over the weekend, a commentary in Rodong Sinmun, the newspaper of North Korea's ruling Workers' Party, said: "Our revolutionary forces are combat-ready to sink a US nuclear-powered aircraft carrier with a single strike."
As the rhetoric ratchets up, the Trump administration has said the era of "strategic patience" is over".
Japan's Self-Defense Forces is conducting joint exercises with the USS Carl Vinson.
It is also expected to be involved in joint training exercises with South Korean naval ships near the Korean peninsula, where it will arrive "within days". North Korea said it is "ready to sink" the aircraft carrier.
Speaking to NBC's Today on Monday (24 April), Haley thundered: "What we have said from the beginning, and what I'll continue to say, is the United States is not looking for a fight so don't give us a reason to have one."
She added that "Kim Jong-un is starting to flex his muscles because he feels the pressure."
Haley continued: "Last week, the [UN] Security Council unanimously condemned what North Korea's doing with their testing.
"China has been considerably helpful in putting pressure on him, and I think he's just trying to show his strength to the people of his country, but it's not going to work."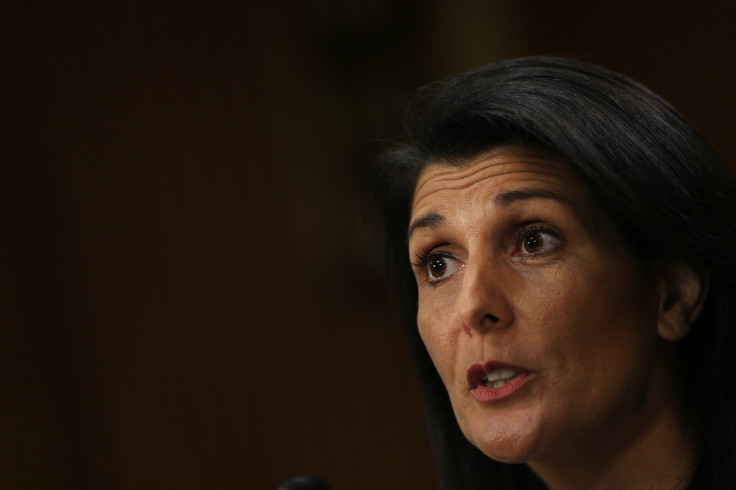 Haley also recognised China as a partner when it comes to holding Kim at bay. "I think it's a new day when you've got China and the United States working together on a statement to condemn North Korea," said Haley.
The former South Carolina governor claimed that the North Korean leader is starting to get "very paranoid".
When it comes to what would constitute starting a fight, Haley identified attacking a military base and "some sort of intercontinental ballistic missile". She added: "We're saying don't test, don't use nuclear missiles, don't try and do any more actions."
Haley was asked to clarify whether she meant military retaliation if Pyongyang tests an intercontinental ballistic missile. She replied: "I think then the president steps in and decides what's going to happen."
In a telephone conversation with his US counterpart, Xi Jinping called for calm and for all sides to "maintain restraint and avoid actions that would increase tensions" in a signal that China is concerned about a potential conflict.