Bella Hadid has probably partied non-stop this weekend as the model celebrates her 20th birthday today (9 October 2016). As she closes the chapter on her teenage years and steps further into adulthood, Hadid certainly has many achievements to look back on be proud of.
The California-native was previously best known as the youngster sister of fellow model Gigi Hadid. However, Bella has stepped out of her sister's shadow and into the spotlight in her own right thanks to her model endeavours. As Bella celebrates her 20th birthday, IBTimes UK takes a look back at the most memorable moments of her year so far.
Cannes Film Festival 2016
"Who's that girl?" was the question on everyone's lips as Bella sauntered onto the Cannes red carpet in May. Bella literally turned heads as she flashed her long legs in a silk red wrap gown courtesy of designer Alexandre Vauthier.
The cleavage-exposing plunging neckline combined with the waist-high side split earned Bella global attention and raised her profile in the fashion world. Fortunately, Bella was able to avoid a wardrobe malfunction.
The Weeknd romance
Although rumours of a split plagued the couple earlier in the year, Bella and her r'n'b beau proved critics wrong as their love is still going strong. The couple, who began dating in May 2015, had remained coy about their relationship until Bella spoke out about her singer boyfriend in an interview with Glamour in September.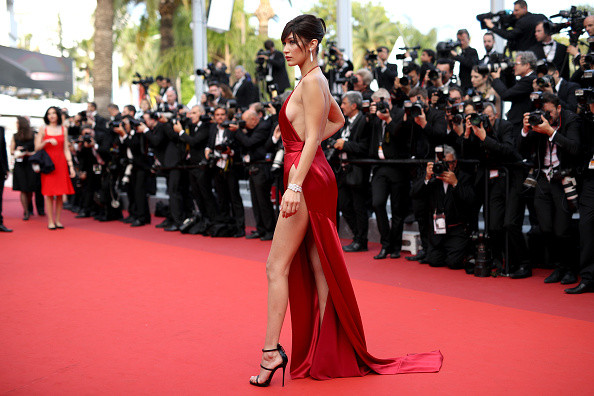 The model said: "I'm dating Abel. I don't see him as The Weeknd. I'm proud of The Weeknd and the music he makes, but I really love Abel." Addressing their red carpet debut at the Grammys in February, Bella added: "It was a big night for him. He has worked so hard, and he did so well that night. As a girlfriend I wanted to be there to support him. Seeing him so happy when he won a Grammy made me so happy."
Bella and The Weeknd's bond is so strong that it has been suggested she inspired him to dramatically cut off his trademark hair.
Fashion Week
Bella proved herself to be a true model at New York Fashion Week in September when she took a tumble on the catwalk. Any model worth their salt will know it is not the falling down that matters but the getting up and Bella recovered like a professional. Aside from the blip, the model dominated the New York and Milan fashion weeks walking for the likes of Michael Kors, Versace, MaxMara and Moschino.