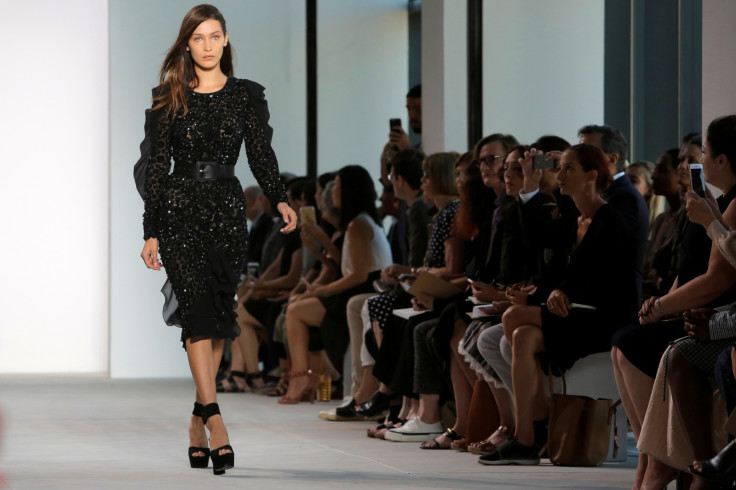 Bella Hadid may be a supermodel but she suffers embarrassing moments like the rest of us. The 19-year-old graced the Michael Kors runway during the designer's New York Fashion Week SS17 show on 14 September but unfortunately wound up a heap on the floor.
Gigi Hadid's younger sister stalked Kors' runway alongside the likes of Kendall Jenner and Joan Smalls at Spring Studios in Manhattan. However, Hadid's big moment was marred by a tumble in six-inch black heels in full view of front-row A-listers; Vogue editor-in-chief Anna Wintour, The Devil Wears Prada's Emily Blunt and former model-turned-actress Sienna Miller, no less.
Despite the ordeal, Hadid fell with grace and remained smiling even when she was on her knees right in front of press and photographers. Along with her pride, Hadid managed to injure her foot with the model sharing a Snapchat of her grazed heel and boxes of plasters.
On Twitter, Hadid joked about the incident: "Guys I'm a professional breakdancer now I forgot to tell u." She also made a quip on Instagram by sharing a short clip from the show, with the tumble edited out alongside the caption: "Seconds before," and laughing emojis.
She was supported by her BFF and fellow model Hailey Baldwin, who tweeted: "Ur a legend and a full on pro," referencing Hadid's quick recovery after the fall.
Mishaps aside, Hadid is still one of the new school of models to watch – the teen was crowned UK GQ's model of the year earlier in September. Along with peers – Jenner and sister Gigi – Hadid was criticised by iconic 1980s supermodel Stephanie Seymour who believes they are not worthy of the 'supermodel' title. At a Vanity Fair event Seymour said: ''[Kendall and Gigi] are beautiful girls, and I support all of them, but they need their own title. [They're just]... B***hes of the moment!'
Watch: Bella Hadid fall on the runway at Michael Kors' NYFW show:
Hitting back, Hadid told Glamour in August 2016: "It's crazy. I've worked with Stephanie before and loved her; she was sweet to me. I don't know if she meant it in that mean way. But even so, it's still hurtful. My sister and Kendall work their a***s off. We're all working hard. You just have to let your success speak for itself..."
Hadid need laugh off her NYFW tumble as IBTimes UK draws up our list of Top 5 models who have suffered the fabulous misfortune of falling over at a high-profile fashion event.
TOP 5 SUPERMODEL RUNWAY FALLS
Naomi Campbell – Vivienne Westwood (1993)
Candice Swanepoel and Pooja Mor – Givenchy (2016)
Alek Wek – Zac Posen (2011)
Agyness Deyn – Naomi Campbell's Fashion For Relief (2010)
Karlie Kloss – Fendi (2011)