The flip-side to Chelsea's remarkable Champions League victory was evident across London on Saturday night, as Tottenham's European dream was left in tatters. The heartache was clear to see; a cruel end to another season blighted by early season optimism that faded in the closing stages once again. For Chelsea, uncontained joy at winning the European Cup for the first time in their history was boosted by qualification to next season's Champions League, despite finishing sixth in a mediocre league campaign.
A humbling three-week period for Harry Redknapp culminated in the crushing acknowledgement deep in the bowels of Munich's Allianz Arena that Spurs will not be playing in the Champions League next season. Being overlooked for the England manager's job in favour of Roy Hodgson was tough for Redknapp to bear; but after Chelsea's penalty shoot-out win over Munich, his Tottenham side, despite finishing fourth in the Premier League, will now have to settle for the Europa League.
Should we feel sympathy for Tottenham's plight? The rules were clear from the start and there is little to be gained in hypothesising over what ifs. Ever since they missed out on third spot to Arsenal their qualifying place rested on the result of Saturday's final in Munich.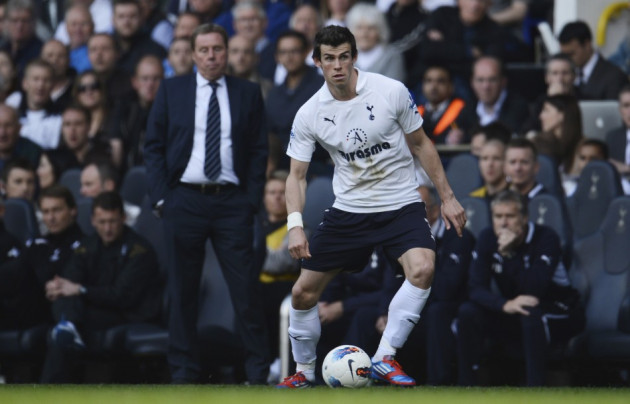 For a long stretch of the season, Spurs looked odds-on to finish third until a late-season collapse that coincided with speculation linking Redknapp to the vacant England manager's job. They lost five of their last 13 games, a run that started with a 5-2 defeat at Arsenal on 26 February and eventually saw them take just 16 points from a possible 39 as they relinquished their 10-point lead over the Gunners.
Nevertheless, is it not time for UEFA to level the playing field for those teams that earn a Champions League place over the duration of a season? Qualification for Europe's elite club tournament can be worth up to £35m once assorted broadcast rights and ticket prices have been factored in. Those figures can prompt big purchases and encourage key players to stay, especially when Manchester City and Chelsea can out-gun all concerned with inflated transfer fees.
Indeed, with the implementation of UEFA's Financial Fair Play regulations (FFP_ - restricting clubs to making a total loss of €45m over the next three seasons - the ability of clubs outside the top four to afford significant pay deals is small without the economic clout of Champions League football. Without that budget, meeting FFP rules and recruiting top players will be a tall order for Tottenham.
Notwithstanding the loss of the additional income, Spurs now face an uphill task to convince key personnel to stay beyond the summer. The prospect of a prolonged Thursday night Europa League campaign is unlikely to prove attractive for star players such as Luka Modric and Gareth Bale, who have already been linked with a number of top European sides.
Modric, the subject of two failed bids from Chelsea last summer, has once again been linked with a move to Stamford Bridge, with Real Madrid, Manchester City and Manchester United also monitoring the situation. The 26-year-old is contracted to White Hart Lane until 2016 but he has refused to sign an improved deal and is prepared to force a move by submitting a formal transfer request after Euro 2012.
Tottenham have a right to feel aggrieved at this most unsatisfactory of outcomes. Redknapp's side can feel they have earned the right to represent England in the Champions League, arguably above Chelsea's fantastic achievements in Munich. The four most deserving teams should compete in the Champions League based on performances in their home league - in that regard, Tottenham are the outstanding candidates.
The precedent was set back in 2005, when Everton finished fourth and Liverpool won the Champions League, there was no clause in UEFA's regulations for such a scenario. Liverpool were invited to defend their crown, meaning there were five English representatives in the qualifying round. The rules were overhauled to ensure the winners would subsequently take the place over the weakest league qualifier, with a maximum of four clubs permitted from a single country. A state of affairs Arsenal manager Arsene Wenger believes are "a bit illogical".
"It is not completely fair," Wenger told a press conference in April. "It is a bit illogical that the team finishing fourth is not involved in it.
"[However] it is the rule that everybody knows before the season starts, nobody complained."
But Wenger insists an alternate system, whereby the team that finished fourth be allowed to play a qualifier as usual - meaning five English teams could end up in the competition - is a viable option.
"We had a debate in Geneva about that a long time ago," Wenger confirmed. "At the start, the winners of the Champions League were not qualified if they did not normally qualify in the championship.
"We decided that it is unfair that the winner of the Champions League should not have a chance to defend the trophy."
And the UEFA rules leave no room for interpretation: "No association may enter more than four clubs for the competition.
"The UEFA Champions League title-holder is guaranteed a place in the group stage even if it does not qualify for the competition through its domestic championship.
"If the titleholder comes from an association entitled to four places in the UEFA Champions League and qualifies for the UEFA Europa League through its domestic competitions, the lowest-ranked club of the association's UEFA Champions League representatives is automatically transferred to the UEFA Europa League."
The implications of failing to finish the campaign in the top four are clear and that is why Tottenham will garner little sympathy among Europe's elite. By exposing themselves to the whims of the footballing gods they bet too high. And lost.