Harrison Ford refuses to discuss Star War love affair with Carrie Fisher
"It was strange. For me," he said of Fisher's decision to tell all.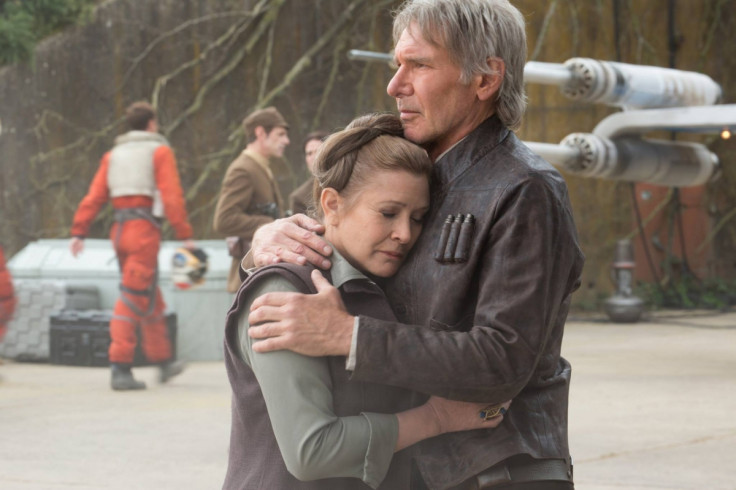 Harrison Ford has made it clear he does not want to discuss his affair with Star Wars co-star Carrie Fisher during the filming of the original movie. The late actor made the shocking revelation in her memoir The Princess Diarist last year.
"It was strange. For me," Ford said of Fisher's decision to tell all. The 75-year-old actor said he hasn't read the memoir, but did have "a degree" of notice that Fisher was to disclose their affair, which lasted three months while Ford was married to first wife Mary Marquardt.
Asked about the affair itself, Ford told GQ Magazine: "Oh, I don't know. I don't know. You know, with Carrie's untimely passing, I don't really feel that it's a subject that I want to discuss."
He declined to comment on whether he would have preferred the star to keep schtum.
Fisher passed away on 27 December 2016 following a cardiac arrest, a little over a month after The Princess Diarist had been published. The book was based on her experiences filming the original trilogy in the late 1970s and early 1980s.
Fisher discussed the revelation last year, telling NPR's Fresh Air show she never would have revealed the affair without warning Ford.
"I wouldn't have ambushed him like that, but it's still – no matter if I told him or not, it probably feels like an ambush," she said. "It feels like an ambush to me, and I'm the one that wrote it. I said, 'I found the journals that I kept during the first movie and I'm probably going to publish them'. And he just sort of raised his finger and said: 'Lawyer!'"
The pair reprised their roles as Han Solo and Leia Organa in 2015's The Force Awakens, with Fisher appearing once more in this December's sequel The Last Jedi. It will be her final movie performance.
Mark Hamill also returned as Luke Skywalker, but it was only Han and Leia that shared screen time together, enjoying an emotional reunion around the halfway point of the film, just after it's revealed that villain Kylo Ren is their son, Ben Solo.
Later in the film, Ren kills his father, marking Ford's exit from the franchise. It's well known that the actor wanted his character killed off in 1983's Return of the Jedi.
Ford is currently on the promotional trail for another sci-fi return, this time as Deckard in Blade Runner 2049 opposite Ryan Gosling. That film is set to release on 6 October.
© Copyright IBTimes 2023. All rights reserved.