Animal rights campaigners have criticised leading fashion brands after shocking undercover footage revealed the torrid conditions endured by rabbits bred for their fur.
French activists L214 released a film they allege shows the suffering of animals used to make fur luxury garments tailored by Dior, Dolce & Gabbana and Fendi.
The harrowing video shows hundreds of Orylag rabbits – which have been special bred for the softness of their fur – at a grim slaughterhouse in south west France.
Creatures of various ages and sizes can be seen cramped up in tiny cages – many of them appear maimed or deranged.
L214 claimed that the animals would never see the light of day during their miserable lives, adding: "Luxury can not be freed from a minimum of ethics."
"We are asking Dior, Fendi and Dolce & Gabbana to assume their share of responsibility and give up the use of animal fur."
The brands were contacted by AFP but did not wish to comment on the footage, French website L'OBS reported.
The Orylag breed was developed in the 1970s by the French National Institute for Agricultural research. It is noted for its especially soft hair, preferred by garment designers.
Jean Boutteaud, president of the cooperative of Orylag farmers, said he was "surprised" by L214's interpretation of the footage.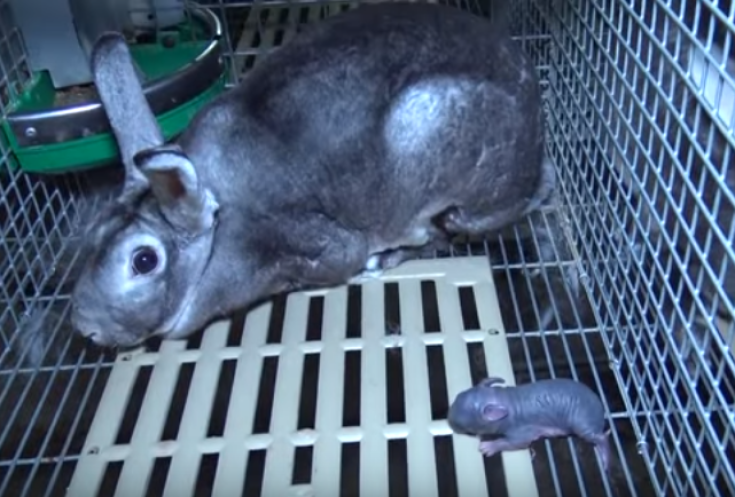 "The Orylag is not a wild rabbit or a pet ... it has its own characteristics, it can not be put outside or outside. certain age, it is necessary to put it in individual cage if they fight," he said.
"They are animals that have a certain sensitivity, which are quite fragile and that is why they are given the most comfortable conditions possible to limit mortality and diseases," he added.
L214 was founded in 2008. Its name derives from article L214-1 of the French Rural Code, which states: "Any animal, as a sensitive being, must be placed by its owner in conditions compatible with the biological imperatives of its species."
It is partly thanks to the work of the group that all French abattoirs will be legally required to install CCTV by January 2018. However, earlier this year the group was sued by an abattoir for planting hidden cameras within its site.