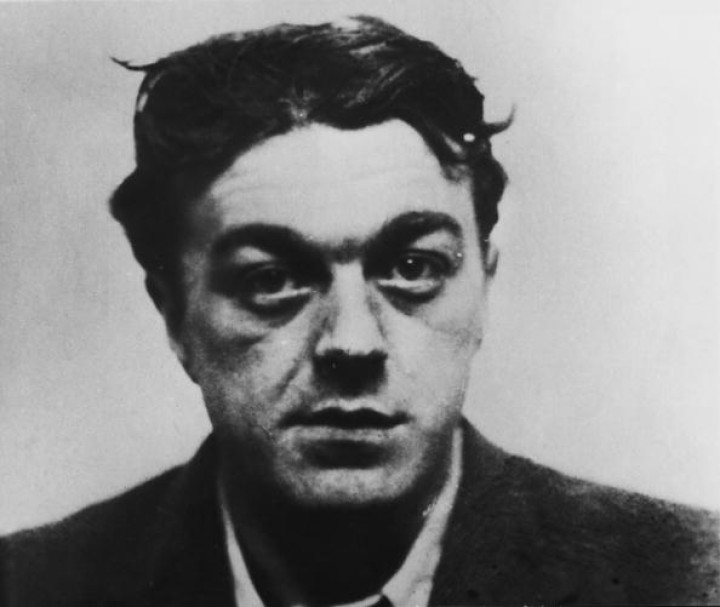 In August 1966 the feel-good factor was running high as England enjoyed a World Cup victory and a seemingly endless summer.
But the good vibes were blown away with the brutal slaying of three policemen in a west London street, sending shock waves right to the heart of the nation.
Like the Moors Murders and the Profumo Affair before it, the crime exposed the dark side of society as the sixties began to swing and Britons were starting to believe "they had never had it so good."
The killer was Harry Roberts, a former soldier who learnt to kill in the jungles of colonial Malaya. He was also a violent armed robber who became a working class anti-hero, inspiring a football chant to goad police, as hooliganism began to grip England's beautiful game.
Harry Roberts freed on parole
Once consigned to the annals of British crime history, the infamous episode has been brought to the fore as Harry Roberts will soon be a free man after the notorious murderer was granted parole, having served 48 years at her Majesty's pleasure.
The Parole Board of England and Wales has judged that the 78-year-old no longer poses a risk of serious harm to the public, and he could be allowed to walk out of Littlehey Prison in Cambridgeshire within three weeks.
Roberts is one of Britain's longest serving inmates after he was found guilty of the murders of London policemen Geoffrey Fox, 41, David Wombwell, 25, and Christopher Head, 30, in the aftermath of a 1966 robbery.
His imminent release has been condemned by Mayor of London Boris Johnson and Metropolitan Police Federation Chairman John Tully, who both believe Roberts should spend the rest of his life behind bars.
Harry Roberts robbery and murder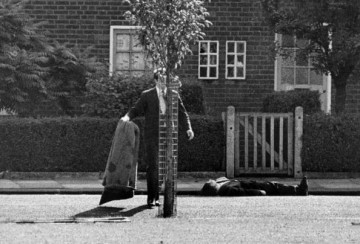 On 12 December, 1966, Roberts and two accomplices, Jack Witney and John Duddy, were on their way to commit an armed robbery when they were stopped in Shepherd's Bush, west London, by police officers Fox, Wombwell, and Head.
At the time, cars in the area aroused police suspicion because escapees from nearby Wormwood Scrubs prison would often use those along Braybrook Street as their getaway vehicle.
When one of the men was questioned about his driving license, Roberts became fearful he would be caught with unauthorised handguns.
Roberts shot Wombwell in the left eye, killing him instantly. He then chased Head on foot, firing a shot that hit him in the head.
Officer Fox, who was sat in the police car, was fatally blasted by both Duddy and Roberts who fired shots as he reversed the vehicle. As Fox died, his foot weighed down the accelerator and sent the vehicle lurching over the body of officer Head who lay dying of his wound.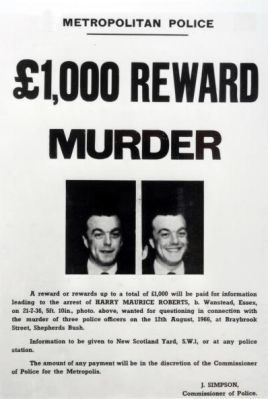 Harry Roberts manhunt

After fleeing the scene, Roberts evaded detectives by hiding out in woods near London for 90 days. The former soldier survived by using jungle skills he developed while serving in Kenya and Malaya during national service.
He knew the area well having lived there as a World War II evacuee. So convinced were locals that Roberts was not hiding in the forest, potential sightings of the murderer were dismissed. During the manhunt, police offered a £1,000 reward for his capture.
He was finally captured while sleeping in a barn at a farm near Bishop's Stortford.
Harry Roberts sentence

The trial of accomplices Jack Witney and John Duddy was adjourned on the news of Roberts' arrest so that the three suspects could be tried together.
On 12 December 1966, after a trial lasting only six days, a jury took 30 minutes to find the three men guilty of murder and possession of firearms. The death penalty had been abolished only months before and Roberts would have no doubt been hung. Instead he was given a life sentence, with the judge recommending he end his life in prison.
Handing down the sentence, Judge Justice Glyn-Jones said it was "the most heinous crime to have been committed in this country for a generation."
Harry Roberts, Jack
Witney

and John

Duddy

post-conviction

Duddy died in Parkhurst prison on 8 February, 1981, and Witney was released in 1991.

Roberts meanwhile has been in prison for 48 years - 18 longer than the 30-year minimum term recommended by Glyn-Jones, which expired in 1996 when he was aged 60.

Successive Home Secretaries decided to extend his term, and a 2001 parole was rejected after he was accused of criminal behaviour. The House of Lords also rejected a parole appeal in 2005.

The parole board now believes that almost half a century in prison satisfies Roberts' debt to society.