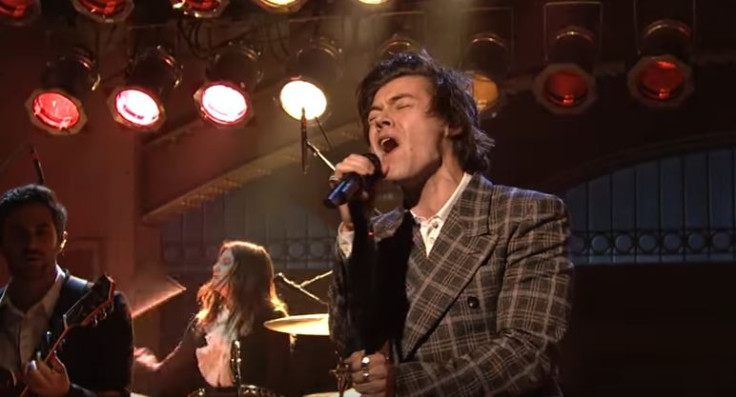 Harry Styles has yet to release his solo album but the One Direction star's artistry has already been called into question. The singer has been accused of ripping off a British 70s band on new single Ever Since New York.
The 23-year-old heartthrob wowed fans with his performance of the song− said to be inspired by his brief romance with Taylor Swift− on America's Saturday Night Live . But it didn't take long for some eagle-eyed (or eagle-eared) fans of Badfinger to notice a glaring similarity.
Many fans took to social media to express their disdain over what they claim is a near identical guitar riff to the one used on the track Baby Blue.
One person asked: "So did Harry Styles get permission from Badfinger to use the Baby Blue riff for that song?"
Another fumed: "F***Harry Styles. Rip-off artist. That riff is NOTE FOR NOTE lifted from Baby Blue by Badfinger.Unbelievable. I'm far too upset about Harry Styles stealing the Baby Blue riff."
"This feels so personal. Is he going to rip off some 10cc orT. REX next?" a third wrote.
@Pizzawitjo wrote, "I get extra defensive about Badfinger. Putting a Pete Ham credit on that Harry Styles song is VERY important."
IBTimes UK has reached out to Styles' representatives for comment.
Released in March 1972, Baby Blue is about a woman named Dixie Armstrong, who late frontman Pete Ham had dated. The song peaked at number 14 on the Billboard Pop Singles chart and has been covered many times since it was first recorded in 1971.
In 2013, the song was introduced to a new generation of music fans and enjoyed a chart resurgence after it was played during the final scene of American crime drama, Breaking Bad.
Listen and compare the two tracks: