Disgraced film producer Harvey Weinstein is this year's effigy to be set on fire as of part the traditional Edenbridge Bonfire Society celebrations.
The 36ft high Weinstein effigy will be paraded through the Kent town before it is "demolished by a mixture of gunpowder and flames" for this year's Guy Fawkes night.
The Hollywood producer is currently being investigated by police forces in the US and UK after dozens of women came forward with allegations of sexual abuse against Weinstein.
Down the years, the Edenbridge Bonfire Society has burnt effigies of a number of celebrities who feel that they deserve their "comeuppance".
Last year, an effigy of Donald Trump was burnt at the event just a matter of days before he won the US presidential election.
In 2015, Sepp Blatter was chosen as the effigy to burn in the wake of the Fifa bribery and corruption scandal which saw him resign as president of the world football governing body in disgrace.
Announcing the decision for 2017's effigy, a spokesperson for Edenbridge Bonfire Society commented: "As with last year there were many strong contenders for this year's celebrity guy, particularly in the political and cultural world.
"However, Weinstein was the obvious option due to allegations of outrageous and despicable conduct, which we at Edenbridge Bonfire Society obviously found completely abhorrent.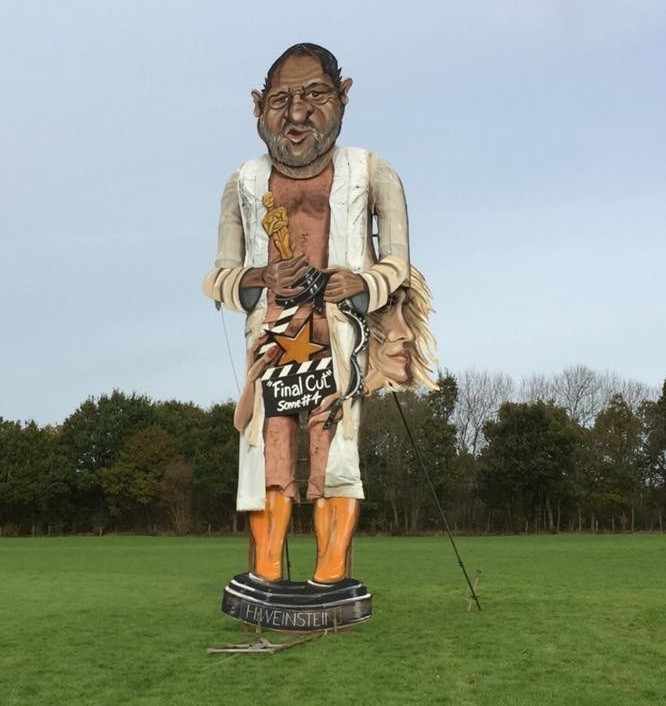 "While the burning of the guys is aimed as a light-hearted way to mark the traditional bonfire night celebrations in the UK, there is of course nothing funny about Weinstein's behaviour, so it seemed only fair that he gets his comeuppance in effigy form."
Other effigies to have been burnt the event include Katie Hopkins, Tony Blair, Saddam Hussein and Wayne Rooney.