Donald Trump 'fired' at UK Bonfire Night celebrations
Massive effigy of the Republican Party's presidential candidate was burned at a number of celebrations.
Edenbridge and Lewes' renowned Bonfire celebrations marked their ballots in the US presidential race by burning effigies of Donald Trump at their annual events. The events, which were held on Saturday night, are famous for their grand displays and topical Guys.
Speaking on behalf of Edenbridge Bonfire Society, Jeni Fox said: "We were spoilt for choice in terms of potential contenders with a shortlist of around 10 potential runners, but the people's choice stole the vote."
"We are literally helping Trump to live out his own catchphrase 'burn it down' by exploding the 11m effigy as the opening act for our fireworks display."
The giant effigy depicted Trump, clad in Mexican-themed boxer shorts, holding his presidential rival, Hilary Clinton, in a headlock. Fox said Clinton had been included in the display in the interests of fairness.
She said: "It only seemed fair that Hillary Clinton took some of the limelight, and we are sure the presidential candidates will be pleased to see they are both featured."
Over the years, few have been safe from the Bonfire Society's ridicule. Figures such as Saddam Hussein, Tony Blair and Katie Hopkins have all come to a fiery end at the Kent town's celebrations. Last year, disgraced former head of football governing body FIFA, Sepp Blatter, was the Guy.
In Lewes, where annual celebrations have been held for centuries, several Trump effigies were carried along the procession ahead of the main bonfire event. But Trump wasn't the only politician to be targeted by the event, where Theresa May, Boris Johnson, David Cameron and Nigel Farage also featured.
David Cameron has also been included in previous line-ups, last year an effigy of the former-PM holding a pig's head was burned at the event.
However, the turnout this year – which is said to ordinarily double the town's population of 17,000 –could well have been affected by Southern Rail strikes which meant there were no trains serving the town. This year's event in the East Sussex town was also attended by armed police, due to the national security threat.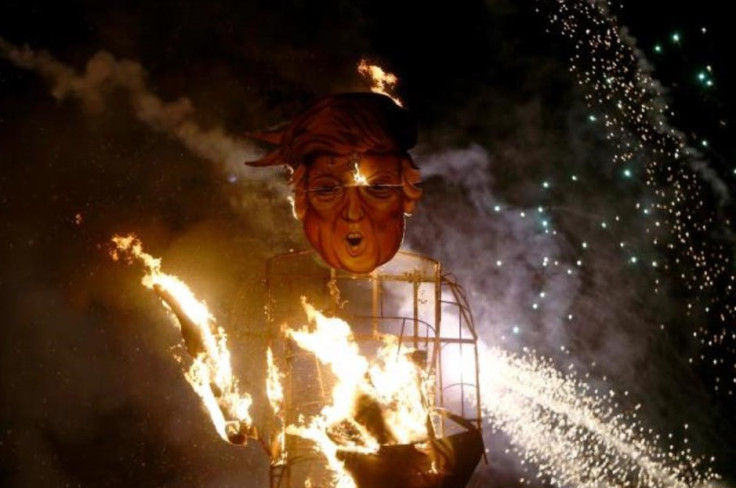 © Copyright IBTimes 2023. All rights reserved.