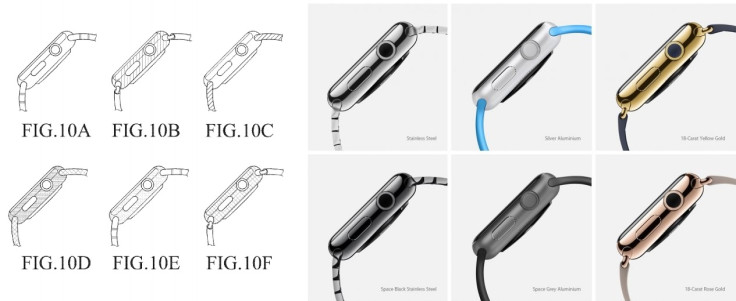 A Samsung smartwatch patent has been found to contain drawings of the Apple Watch. The sketches include close-ups of the Watch's straps, heart rate monitor and 'Digital Crown' control.
The patent was made public on 4 August and contains a number of sketches of different watches and fitness bands, one of which resembles Samsung's own Gear Fit wearable. The drawings specifically detail how spring-loaded strap lugs are used to replace watch straps.
There are dozens of drawings and annotations, but it is figures 10A to 11F which are most interesting. These are, clearly, depicting the Apple Watch. They even show the smartwatch in the same positions and from the same angles as promotional images used on Apple's website.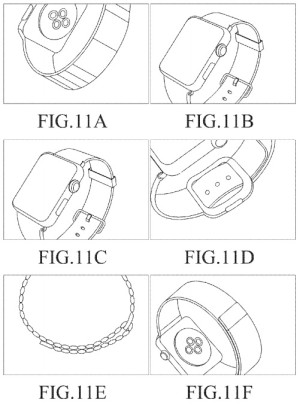 Samsung's patent describes the images as: "Views illustrating diverse shapes, structures, and materials of a first strap portion or a second strap portion in a wearable device according to an embodiment of the present disclosure."
These "diverse shapes" are of course Apple's many different straps sold alongside the watch. The Milanese Loop, Leather Loop and the Classic Buckle are all featured in the Samsung drawings, along with a side-on view of six different watches, which looks exactly like an image used on Apple's website.
The patent, discovered by PatentlyApple, also describes a strap which sounds very similar to Apple's Leather Loop, whereby the strap contains magnets to lock the two sides together, instead of using a buckle or clasp.
Samsung states: "The band for adjustment may be coupled with the band for fixing through a structure, such as a separated buckle or continuous integral buckle, through a magnetic attracting force, or through a hooked ring or hooked member."
IBTimes UK has contacted Samsung for a comment and will update this article if we receive one.