Boko Haram terrorists have allegedly asked a local human rights activist and lawyer to start negotiating with the Nigerian government on their behalf. The move came days after Nigerian President Muhammadu Buhari said the UN should intervene and negotiate with the Islamist outfit.
Earlier in September, Buhari said the government was willing to free some detained militants in exchange for the girls, a key demand made by the Islamist outfit. The leader said the government had already tried to engage in negotiations, but " it became difficult to identify credible leaders."
Shortly after Buhari's speech, an audio allegedly made by a Boko Haram member emerged. It is believed the person overheard speaking in Hausa, said barrister Aisha Alkali Wakil should represent the group during negotiations with the government.
Prince Lawal Shoyode, a spokesperson for Barrister Aisha Wakil – and the barrister herself – have since both confirmed to IBTimes UK that Boko Haram had put forward a request. "There are three Boko Haram factions at the moment and all of them have requested to be represented by Barrister Aisha," Shoyode said. He added the first thing that will be negotiated is the release of the Chibok girls.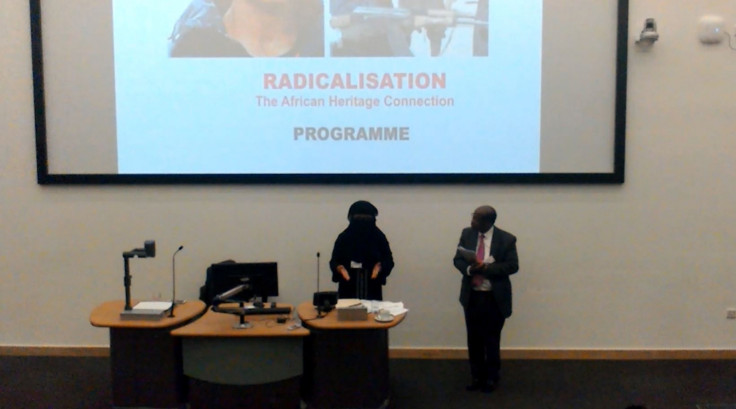 What's next?
Wakil spoke to IBTimes UK directly and said she was willing to negotiate with the government. "I want total surrender of the boys [Boko haram]. I want them rehabilitated counseled, properly directed, and forgiveness from people. Then we move on," she said.
"You know the release of Chibok girls and other captives are paramount. You also know that some of them are married with kids, sad but manageable. Let them come out and have a new life, homes. Once the boys will keep their stand on peace, dislodge all negative forces, we will be swimming in peace and joy."
Who is Mama Boko Haram?
Wakil, originally from southern Nigeria, is known to locals in north-eastern Nigeria – the epicentre of Boko Haram's insurgency – as "Mama Boko Haram" due to her connection with the group. She advocates dialogue, rather than the use of military force, to defeat the insurgents and was appointed by the country's previous president, Goodluck Jonathan, as part of a team to trace nearly 300 girls abducted from the Chibok village, Borno state, by Boko Haram in 2014.
Wakil was also part of a Boko Haram Amnesty Committee, established in 2013. The year before, she and her husband had been nominated by a Boko Haram "representative" to negotiate a peace deal on behalf of the group.
Nigeria's response
The Nigerian government and army have not made comments on Boko Haram's alleged request yet.
The defence ministry's spokesperson, Colonel Rabe Abubakar, did not confirm whether negotiations could take place with Wakil representing the group. However, he told IBTimes UK: "Barrister Aisha is a highly respected personality in Nigeria and we equally appreciate all her help. The government has made many moves to broker peace in order to bring back Boko Haram's captives, including the Chibok girls.
"Boko Haram is a problem that concerns everyone and everyone in Nigeria has to work to ensure peace is achieved," he continued. "Those Boko Haram members who want to surrender should do that, for the sake of themselves and for the sake of the nation. Our operations will continue."
In August, the Nigerian army declared Wakil, activist Ahmed Bolori and journalist Ahmad Salkida wanted due to their "close ties with Boko Haram" terrorists.
Counter-terrorism expert's analysis
UK-based anti-terrorism expert David Otto also confirmed to IBTimes UK that Boko Haram asked for Wakil's intervention.
Who are Nigeria's Boko Haram?
Boko Haram, which has renamed itself Iswap, fights against Western influence in Nigeria and aims to impose its version of Sharia law throughout occupied territories.
The group launches attacks in Nigeria and neighbouring countries in a bid to take control of more territory. Three Nigerian states – Adamawa, Borno and Yobe − have been under a state of emergency since May 2013.
Boko Haram has killed more than 20,000 people since 2009 and was deemed the world's deadliest terror group, surpassing Islamic State in November 2015. Nigeria has also become the world's third-most terrorised country as a result of the group's violent insurgency.
"Negotiations are best when one side is in a position of strength – this seems to be the case in favour of the government made easier by the internal split between three factions – Shakau of Boko Haram Mamman Nur of Ansaru and Abu Musab Al Barnawi of ISWAP," Otto, CEO of UK-based global security provider TGS Intelligence Consultants, said.
"Any group that is ready to disengage should be considered a success if both sides are genuine. Using people who have pre-existing relationship with non-state armed groups like Boko Haram is key because the biggest impediment of failed Boko Haram dialogues have rested on the element of distrust and profit making at the expense of so many victims," he continued.
"The only possible counter effect is when Non state groups use this sort of messages to halt military response only to recruit, rearm, re-strategies and pounce again on government forces and innocent civilians."