The Nigerian army has denied its decision to declare three Nigerians wanted was a way to distort attention from the allegations made in the latest video released by Boko Haram terrorists. Earlier in August, the group released a video featuring some 50 female hostages, part of the nearly 300 schoolgirls kidnapped in Chibok, Borno State, in April 2014.
In the video, one of the hostages alleged some of the girls had been killed during Nigerian airstrikes and ground offensive.
Following the emergence of the video, the army declared that Aisha Wakil – known as Mama Boko Haram – activist Ahmed Bolori and journalist Ahmad Salkida were wanted due to their "close ties with Boko Haram" terrorists.
The army also alleged the three people were "in possession of information" regarding the whereabouts of the Chibok schoolgirls.
When interviewed by IBTimes UK, Wakil and Bolori claimed the army refused to engage with them to resolve the Boko Haram conflict and alleged the army declared them wanted to distort attention from the real problem.
Colonel Sani Usman, the army's spokesperson, denied the claims . "The army's declaration that they are wanted is not a way to distort attention from the video. Rather, it is to pay more attention to it," he told IBTimes UK.
"It is not true that the military offensive against Boko Haram kills indiscriminately both the militants and innocent civilians. Suffice to state that all military operations are carefully planned and precise. Although, the latest video clip is still being studied, you can be rest assured that the allegation is not true," he continued.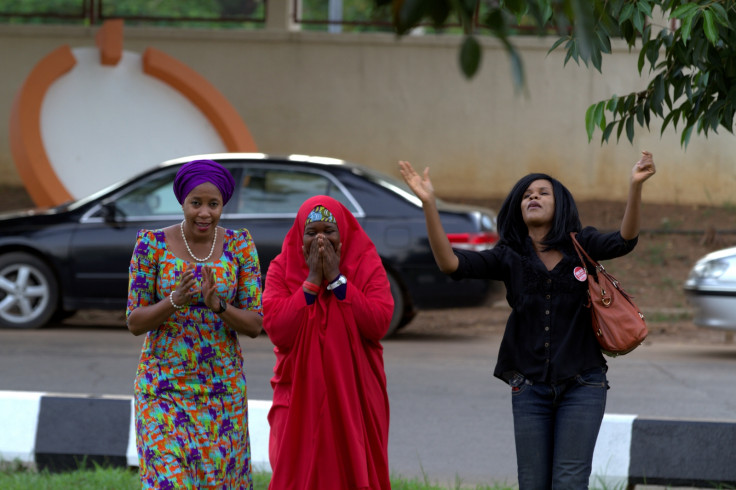 Boko Haram factions and Nigeria's victory claims
The latest Boko Haram video emerged shortly after the Islamist outfit split into two factions as the group's ally, the Islamic State (Isis), appointed Abu Musab Al-Barnawi as its new leader. Abubakar Shekau, who has been leading the group since 2009, denied he had been replaced and vowed to continue his fight.
Nigeria is heading an ongoing regional offensive against Boko Haram. The task force consists of 8,700 troops from Nigeria, Niger, Chad, Cameroon and Benin.
The joint offensive has scored some successes, such as the recapture of several territories and the release of thousands of civilians previously held captive.
Earlier this year, the Nigerian army declared the fight against the terrorists was successfully over, with Usman claiming there were no longer Boko Haram camps in the country' s north-east.
This is not the first time the Nigerian army and government have claimed that the fight against Boko Haram was over.
Although Nigeria's President Muhammadu Buhari declared a technical victory over the insurgents in December 2015, Boko Haram has continued to carry out attacks, with security experts warning underlying issues such as disenfranchisement, poverty and strong links with IS continue to pose major threats to stability in the region.
---
Nigeria up close: Check out our Flipboard magazine
---