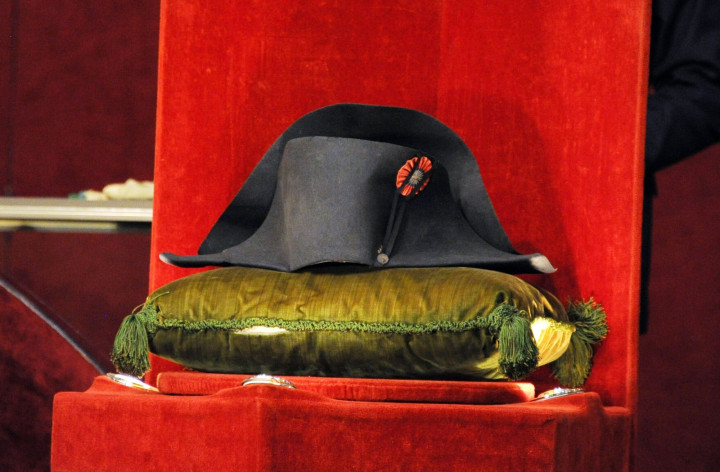 A bicorne hat belonging to Napoleon Bonaparte, two-time emperor of France, has sold for £1.4m (€1.8m) at an auction near Paris.
The black-felted beaver fur hat sold to a South Korean collector, Osenat auction house said.
The hat is part of a collection belonging to the royal family of Monaco, which it is selling to raise funds for a museum project.
The hat, faded and still bearing a tricolor rosette, fetched almost twice as much as the £500,000 experts predicted it would be sold for.
It has not been worn since it was given by Napoleon as a present to his cavalry veterinarian. It was then sold by his heirs to Prince Albert of Monaco's great-grandfather, Louis II, in 1926.
Napoleon's image, with his famous bicorne, or two-pointed hat, became one of the most iconic in European history, after he led the French to victories across Europe before his defeat by an Anglo-German coalition army at Waterloo in 1815.
Defying the convention by wearing the hat sideways instead of with the corners pointing to the back and front, Napoleon said it made it easier for his troops to identify him on the battlefield.
The hat is part of a collection of objects from the Napoleonic era being auctioned by Monaco's royal family, who are distantly related to the ruler.
They include medals, decorative keys, documents, a bejewelled sword, a Russian caviar spoon, and a bullethole-riddled bronze eagle that once perched atop a battle standard.
Other personal items belonging to Napoleon, including a red scarf he wore during his exile in St Helena, are also being sold.
"It's the first time a veritable museum is going under the hammer," said Jean-Pierre Osenat, head of the auction house in Fontainbleau, ahead of the sale.
Some 19 of Napoleon's hats have survived, with two now in private collections.