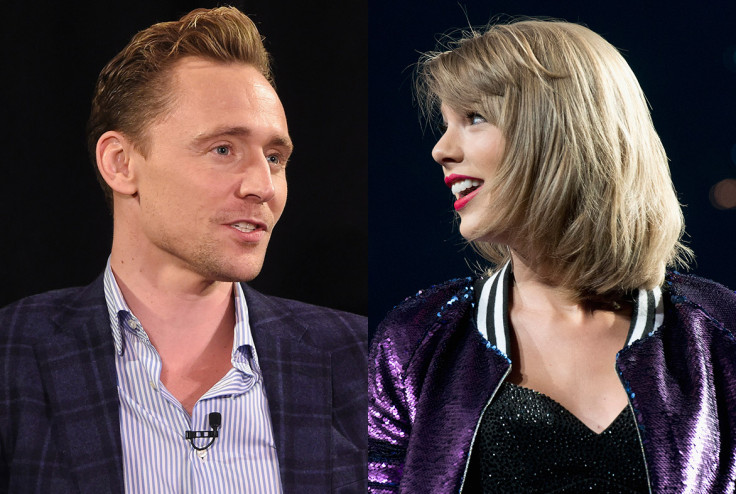 It's been several months since he split with world famous singer Taylor Swift, but Tom Hiddleston can't seem to Shake It Off.
The 35-year-old Thor actor found himself in the wrong place at the wrong time while out on his morning jog in London recently, walking past an unfortunately-worded poster of his former girlfriend Swift.
Hiddleston, looking a little glum, strode right past a large piece of street art by Fussy Human which depicted the 26-year-old singer on the phone next to a speech bubble which read: "Oh Tom ... I love you too ... but ..."
It is unclear as to whether Hiddleston noticed the hilarious coincidence while out and about in the British capital. He appeared nonchalant nevertheless in his workout gear of joggers, an orange puffer jacket and a blue baseball cap as he rushed past the brightly-coloured poster without looking back.
Onlookers certainly didn't miss the fluke, with an eagle-eyed passerby taking a snap of him walking past it.
Hiddleston's relationship with the pop star was highly publicised from the beginning this year, shortly after she parted ways with her long-time love, DJ Calvin Harris.
There have been mixed reports about what exactly happened between the pair, with some citing that The Night Manager actor was deeply embarrassed after being dumped in the midst of their whirlwind romance.
But friends of Hiddleston also claimed that it was he who had in fact ended the tryst after growing "tired of her".
He is said to be so fickle with women that he dumps them all soon after dating them – leading his associates to dub his habit "the three month rule".
A theatre producer who worked with Hiddleston told Heat Street: "The reports are wide of the mark and come as news to all Tom's friends. He grew tired of Taylor, it wasn't the other way round."
Which tail of the story was the poster referring to, we wonder?