The mother of an 11-month-old baby – whose killing was broadcast on Facebook Live – said she is not angry at the social media site or its users who shared the disturbing clip.
On Monday (24 April), Wuttisan Wongtalay tied a rope around his daughter's neck before dropping her from the rooftop of an abandoned building in Phuket. Baby Natalie was wearing a pink dress.
Police found Wongtalay's body alongside his daughter's after relatives saw the harrowing footage and raised the alarm. His suicide was not broadcast.
The child's murder was accessible on Wongtalay's Facebook page for around 24 hours, Reuters reported. While the video was viewed hundreds of thousands of times Natalie's mother, 21-year-old Chiranut Trairat, said she is not upset with its viewers and the only person she blames for her daughter's death is Wongtalay.
"I am not angry at Facebook or blaming them on this," she told the Associated Press (AP) on Wednesday (26 April).
"I am not angry at those who shared the video. I understand that people shared the video because they were outraged and saddened by what happened," she added.
The police officer in charge of the case, Jullaus Suvannin, told Reuters that Wongtalay "was having paranoia about his wife leaving him and not loving him."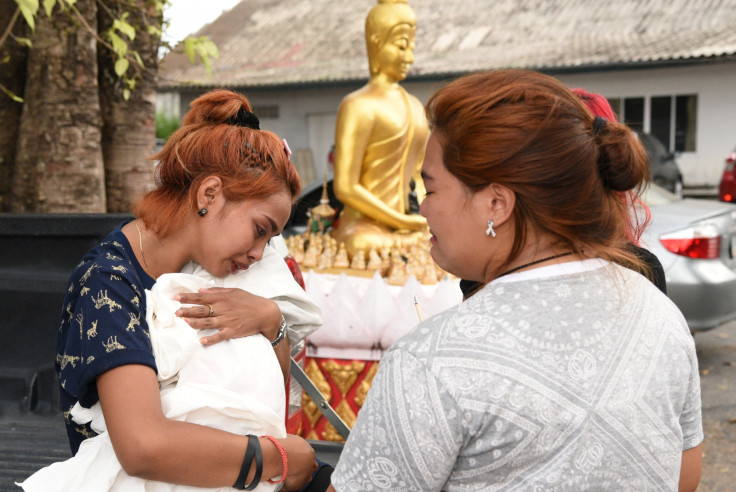 When Trairat discovered her husband had taken their baby, she grew concerned and set out to track them down. "I was afraid he would hurt our daughter even though he loved her," she said.
Trairat said her husband had been abusive in the past and spent two years in prison before they started dating.
The deeply distressing clip sent shockwaves around the world, and Facebook has found itself under the spotlight once again over stopping violent content from appearing on its site effectively.
The social media giant has been looking at ways to block videos as quickly as possible after disturbing content, such as murder and sexual assault, are livestreamed or posted.
Earlier this month, the gruesome murder of Robert Goodwin Sr in Ohio was uploaded to Facebook by his killer, Steve Stephens. The clip was shared widely.
In the aftermath of the Ohio killing, Facebook founder Mark Zuckerberg, acknowledged the social media company has "a lot of work" to do on monitoring broadcasts. The company relies heavily on its 1.9 billion users to flag up objectionable content and a determination is then made on its removal.