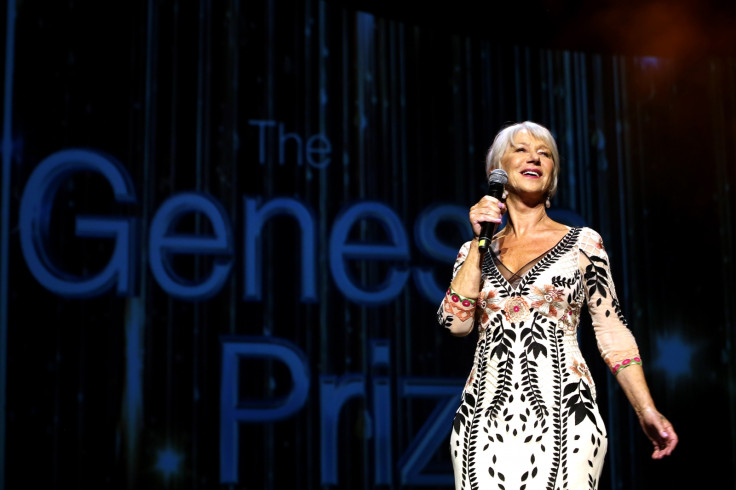 Oscar winning actress Helen Mirren on 23 June slammed the Boycott Divest and Sanctions (BDS) movement and said she believed in Israel as a country.
Mirren lavished Israeli artists with praise and said she is opposed to any efforts by pro-Palestinian groups or international artists to boycott Israel.
At a press conference in Jerusalem, she said "I think that art is an incredibly important way of communication. The artists of the country are the people you need to communicate with and make a relationship with and learn from and build upon. So I absolutely don't believe in the boycott, and here I am," The Guardian reported.
She was in Israel to host the Genesis Prize, also known as the "Jewish Nobel." Israeli American violinist Itzhak Perlman was awarded $1m (£740,006) for his achievements as a musician, teacher and an advocate for the disabled.
The BDS movement had previously managed to persuade artists like Elvis Costello, Lauryn Hill and other performers to cancel their concerts in Israel and also gained support from Pink Floyd frontman Roger Waters.
The 70-year-old actress had played a former Mossad agent in The Debt, a remake of an Israeli film of the same name. She said her connection with Israel dates back to 1967 when she volunteered at a Kibbutz (collective farm) with her then boyfriend.
She added, "I am a believer in Israel. I think this is an extraordinary country filled with very, very extraordinary people. It's just a lucky accident in my life that I have had this privilege."
Boycott Divest and Sanctions movement is a global campaign that began in 2005 to put political and economic pressure on Israel to comply with international law and to end the occupation of Palestinian land.