A medieval four-poster bed once dumped in a Chester car park has been confirmed as the marriage bed of Henry VII and Elizabeth of York on which Henry VIII was likely to have been conceived.
The 500-year-old relic is now believed to be England's only surviving medieval royal state bed and is worth an estimated £20m ($29.7m).
It was found dismantled in the car park of the Chester Redlands Hotel and was later bought at auction by Ian Coulson in 2010 for just £2,200 as a "Victorian Bed".
Coulson had his suspicions that it could be the only surviving bed belonging to the Tudors and contacted archaeologist Dr Jonathan Foyle, who played a major role in the research to confirm the bed's true identity.
Researchers have now confirmed through DNA tests and extensive analysis of its paintwork that the bed was made for the marriage of Henry VII and Elizabeth of York, on 18 January 1486. It is being unveiled to the public at Hever Castle in Kent as part of the A Bed Of Roses exhibition.
"It is England's only surviving medieval royal state bed, and one of the most significant artefacts of early Tudor history," Foyle told IBTimes UK.
"This is a great showing for DNA as a reliable tool for archaeologists and what a story for its debut. Its insane that people have slept in this bed in a hotel without realising what it was because its imagery essentially, was entirely forgotten to us.
"It only makes sense if you look at late 15<sup>th century illustrations, manuscripts, and suddenly you see an entire programme of Henry VII and Elizabeth of York after the Battle of Bosworth asserting their realm. You realise what the bed stands for. It's their promise to act as if they were Christ and the virgin returning England to a state of paradise – they show themselves undoing the sins of Adam and Eve.
"You realise then Henry VII who we always presumed had a shakey claim to the throne but if he said i'm not only God appointed but I'm Christ like – who is going to argue against that.
"It's filled with correct fertility symbols and shows them making a pledge and overcoming the three beasts in royal Psalm 91, and once you see it – you have new eyes on Tudor art, which Christ tramples on that is the young lion, the dragon and a big snake. It's an obscure biblical passage but it's the last thing medieval monarchs heard before they went to bed and it absolutely makes sense that is carved over their bed frame.
"The son that was mostly certainly conceived in that bed on their marriage night was Arthur who died young to everyone's shock, so Henry VIII who may or not have been conceived in it and who later became King. They looked upon that bed to be a place of fertility and they ended up with seven children, all of whom survived into adulthood but they were a pretty fertile couple."
The DNA tests were carried out by the scientific team of Double Helix Tracking Technologies, led by one of the world's leading forest geneticists, Professor Andrew Lowe. He was part of the team, who successfully extracted DNA from the oak timbers of King Henry VIII's flagship Mary Rose, which sank in 1545 but was salvaged in 1982. They proved the samples from the bed were not from North America as previously suspected and confirmed them to be continental European oak – the same kind that the English royalty imported for their beds.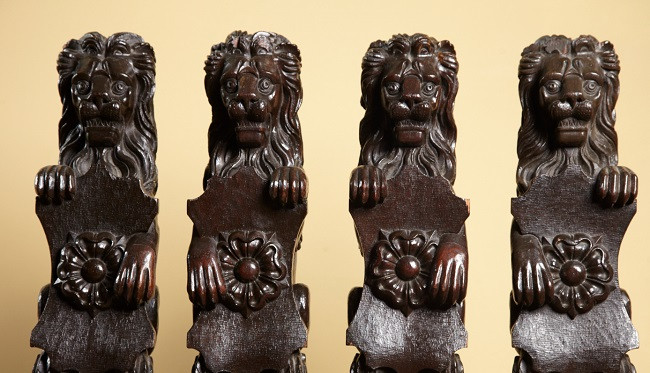 The age of the bed was also confirmed by its historic paintwork following analysis of 200 surface samples by Helen Hughes, a leading forensic archaeologist on decorative interiors.
Foyle said: "It's the most important piece of furniture in England. It's position was in the most hallowed spot and important place in the whole of England in Westminster but moreover it was in the painted chamber, which burned in 1834, used to be described as one of the wonders of the world. The shape of the bed matches the mural that was painted on the painted chamber."
When asked if there are any more relics out there he replied: "There's every likelihood that one day an old timber framed house is going to have a wall taken down and suddenly more of these posts will come to light and we'll understand more about these ransacked and salvaged Royal interiors. At least we have these four posts and the bed is the now the most focal object in the whole of England from the 1500s.