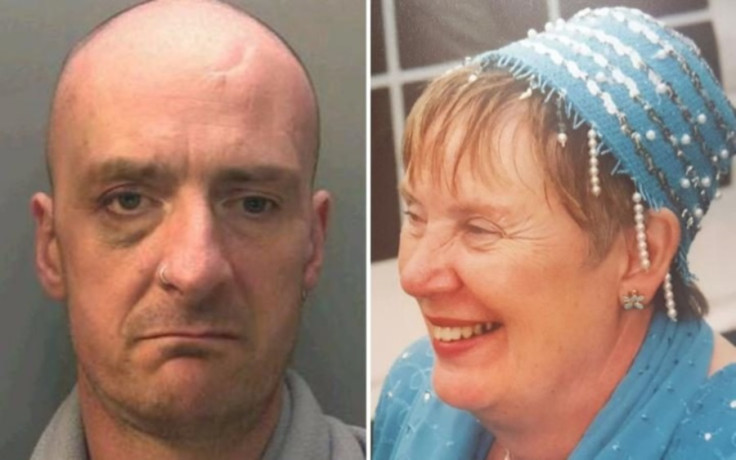 A heroin addict who murdered his own mother with a chainsaw as she hung her washing in the garden has been jailed for life. It was also revealed that Robert Owens kicked and strangled his mother in the attack in Ystrad Mynach, near Caerphilly, Wales.
The 47-year-old admitted to murdering his mother Iris Owens, 75, at Cardiff Crown Court and was subsequently sentenced to life imprisonment with a minimum term of 12 years and six months.
The drug addict had moved in with his mum following the death of Iris's husband Haydn in 2004 and the collapse of Robert's marriage in 2006.
Iris, a retired history lecturer, was described as a "very well-educated" woman who was a published author, earning a first-class degree in English when she was 60 years old. Said to be very active within her community Iris volunteered for several charities and was a bilingual tour guide at a local historic house.
Neighbours saw the mother-of two hanging, out her washing at about 5pm on Tuesday 3 May this year, after she had returned from church. One neighbour, David Harding, heard a loud "oi" or "ah" sound coming from the garden and a chainsaw starting.
During a 999 emergency call at 5.21pm, Robert was heard telling the operator: "Yeah, my mother just went mad. I was chainsawing some wood. She's in the garden now, please help her. She's gone mad, she's not breathing, she went f***ing mad. I've got to give her the kiss of life but she ain't doing nothing," according to a report by the Daily Telegraph:
Paramedics arrived 19 minutes later, finding Robert with blood on his hands and clothing. Iris was then discovered in the garden lying on her back with a cut to the left side of her neck. She was pronounced dead at 5.42pm. A paramedic was told by Robert that his mother had "gone berserk", adding: "I'm going to jail".
Robert admitted he was a heroin addict and had last taken the drug at midnight before the attack. Tests revealed he had morphine, heroin and cocaine in his system at the time of the murder. Owens also admitted strangling his mother and kicking her, causing broken ribs.
Christopher Clee QC, prosecuting said that "the precise sequence won't ever be known". A post-mortem found Iris died from trauma to her head and neck.
'Devastated'
In a statement Iris's daughter described her as a "fantastic mum and grandma" she said: "Iris crammed so much into her life and into every waking moment, but there was always something new and exciting that she wanted to do.
"Sadly, we won't find out what new direction she may have chosen and what new lovely friends she would have made along the way. Her family and friends can just give thanks for the life that she led and for the positive impact she had on so many of the people that she met and who loved her for the amazing person that she was."
Representing Owens, Simon Laws QC said his client was "devastated" by his actions. He said: "This was a close, loving and supportive relationship, so to sit where he does today having done what he did is a very terrible thing. He is devastated by what happened in those few minutes of anger in the garden."